A patio for the backyard is easily one of the top requests that we get at PLANT. Since we specialize in backyards, we're almost always designing and building a patio- or a few of them- at any given time of the year. Needless to say, we have a lot of perspective on this topic!
Whether you're starting from scratch, redoing or just wanting to freshen or improve on your existing patio space in Bucks County or the Philadelphia suburbs- here are 10 Backyard Patio Ideas And Design Approaches to help you think about the possibilities for your own project.
1. Use Curved Bench Seating Around A Grill Or Fire Pit
Think about paver seating that's designed so that it wraps around the grill, firepit or seating area. This is a clever patio design idea and can make getting and eating your barbeque as easy as the pie that you'll have for dessert.
If your grill and fire pit are both movable, you can switch out one for the other as desired to take advantage of this semi-circular, fixed patio seating. Think 'hibachi style' dining and not having to look for a chair!
2. Patio Dining Space: Table, Wicker Chairs & Stone Wall
Imagine yourself on this patio taking your morning breakfast, checking Instagram or news and taking those first sips of coffee or tea. As the dog hops up on the table looking gingerly for your approval… 'Eh…, no biggie' you think and smile. 'Look at how happy she looks!!!' Wag-wag-wag.
Ahhh… an outdoor dining space at home can really set the tone for an easy-going start to your day. Muddy prints, whether paws or feet, can be easily washed away making your outdoor area truly an enjoyable space for everyone. Don't forget- make sure that any furniture is made from materials that last outside- such as teak.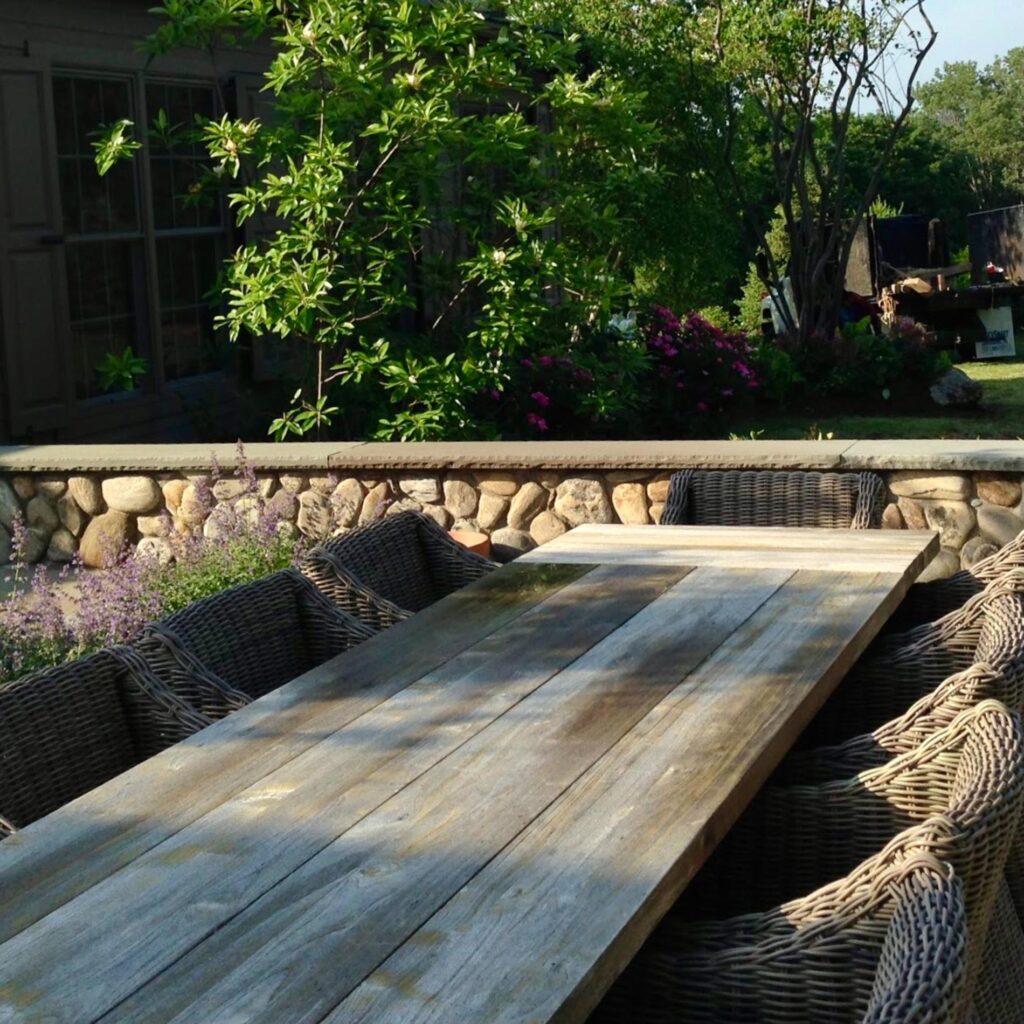 Above: Designed for outside. This teak patio dining area furniture by Restoration Hardware will last because it's made of the right materials. The beauty increases as it is weathered.
Things just seem to feel better when you start the day outside. And, having a patio dining area like the one in the picture above is the kind of backyard addition that you'll be happy you did as time passes. In addition to enjoying meals in rustic style – the riverstone and limestone seating wall ledges surrounding the bluestone patio make a perfect 'perch' for peaceful moments spent watching the sunrise or sunset.
Our clients particularly love the outdoor furniture selection from Restoration Hardware, which we use quite frequently for furnishing our outdoor dining and patio areas.
3. Backyard Patio Dining Area & Pergola
Pergolas are those backyard structures with the slatted roofs. They're versatile in that they use those roof slats to cut down the intensity of sun, while still allowing some light in. So it's something like having a 'sort-of' roof! This versatility makes pergolas a frequently chosen addition to backyard patios. The choices are wide for pergolas and they can be designed to fit your style and needs for most budgets.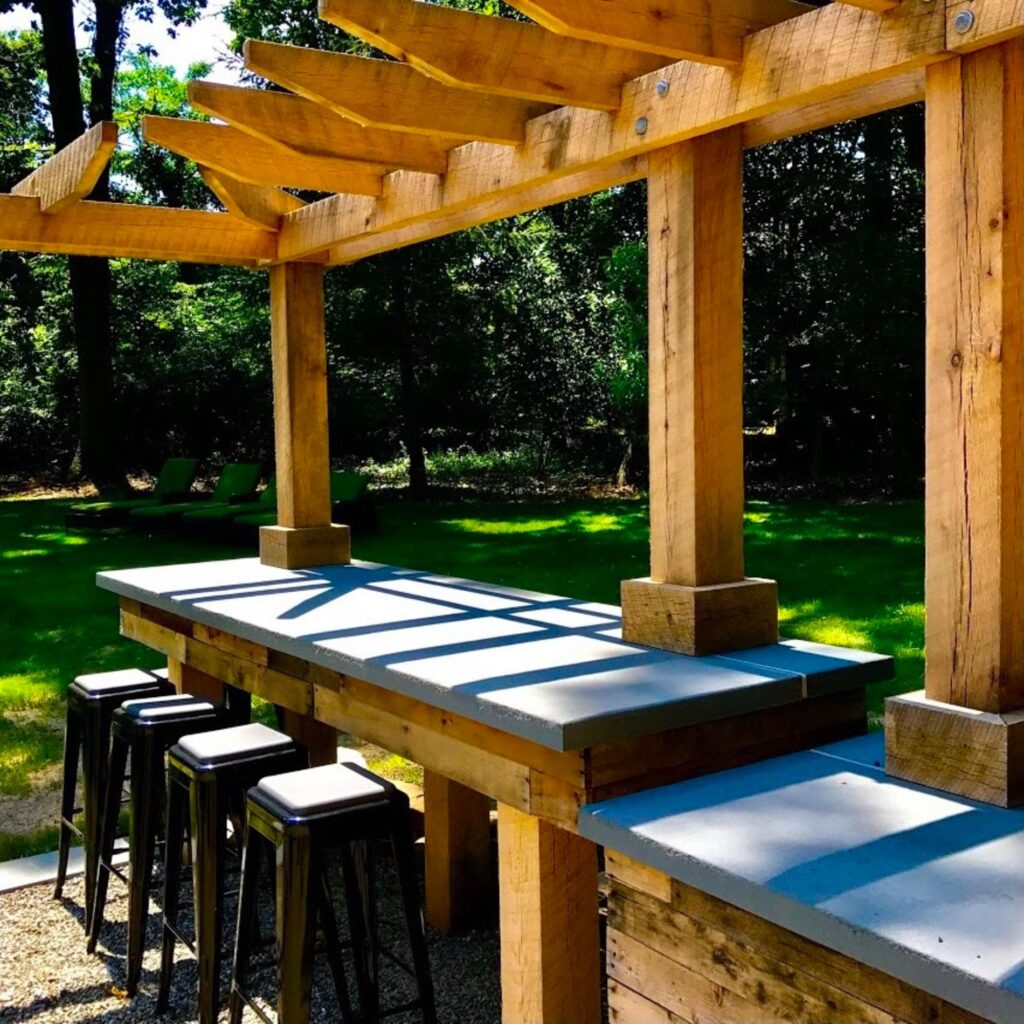 Above: This rustic red oak pergola provides shade to a one-piece bluestone bar top.
4. Add A Crushed Stone Patio & Firepit (Budget Friendly Idea)
It's easy to miss the fact that patios aren't just pavers, flagstone and brick. Remember that patios (as well as walkways) can use plain old crushed stone too. Plain? Old? Not at all!
Crushed stone patios and walkways are actually my favorite. In fact, when someone is visiting my home- that's exactly what they're walking on. I really appreciate the simplicity that crushed stone brings to a landscape.
Besides loving the feel and distinct sound of walking on a properly tamped gravel patio- this is almost always the least expensive patio surface material type to build with. When it's done right, a crushed stone patio surface can provide an incredibly simple and elegant look for your backyard space.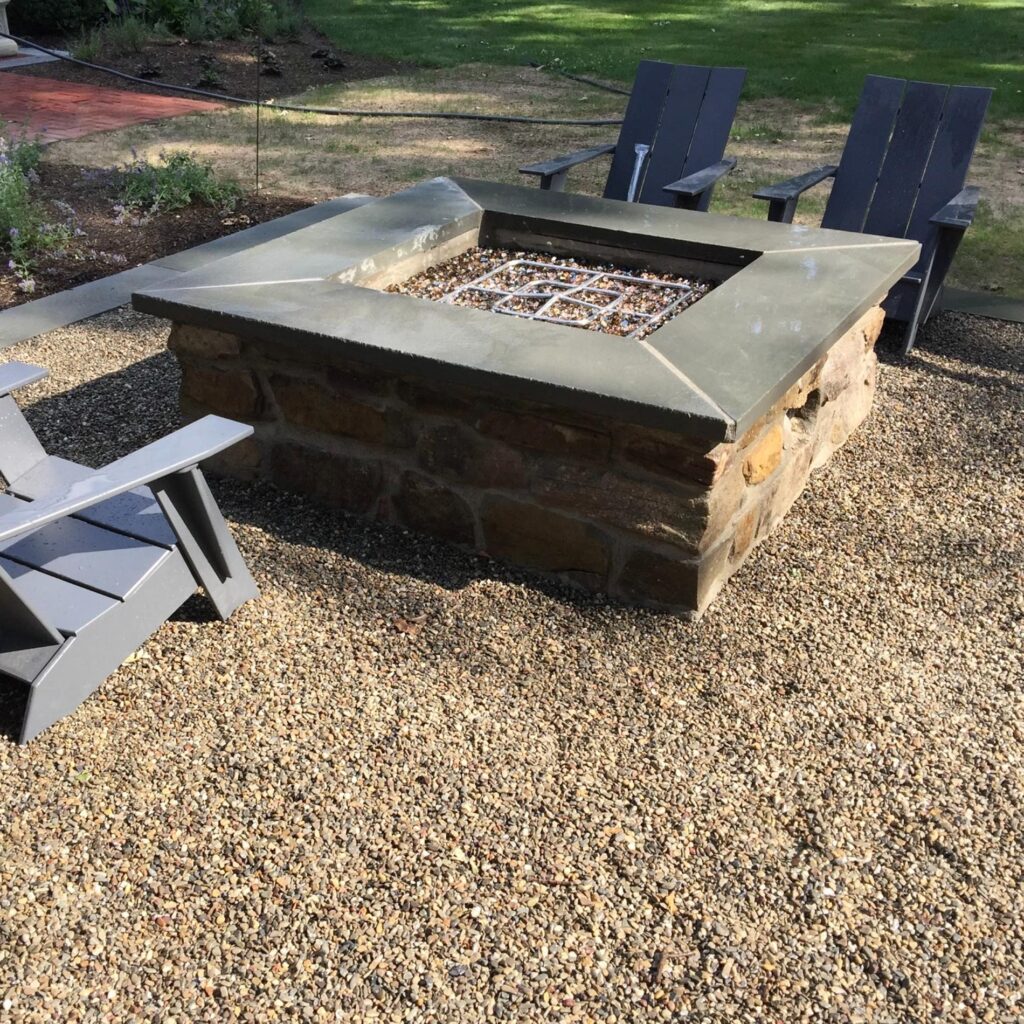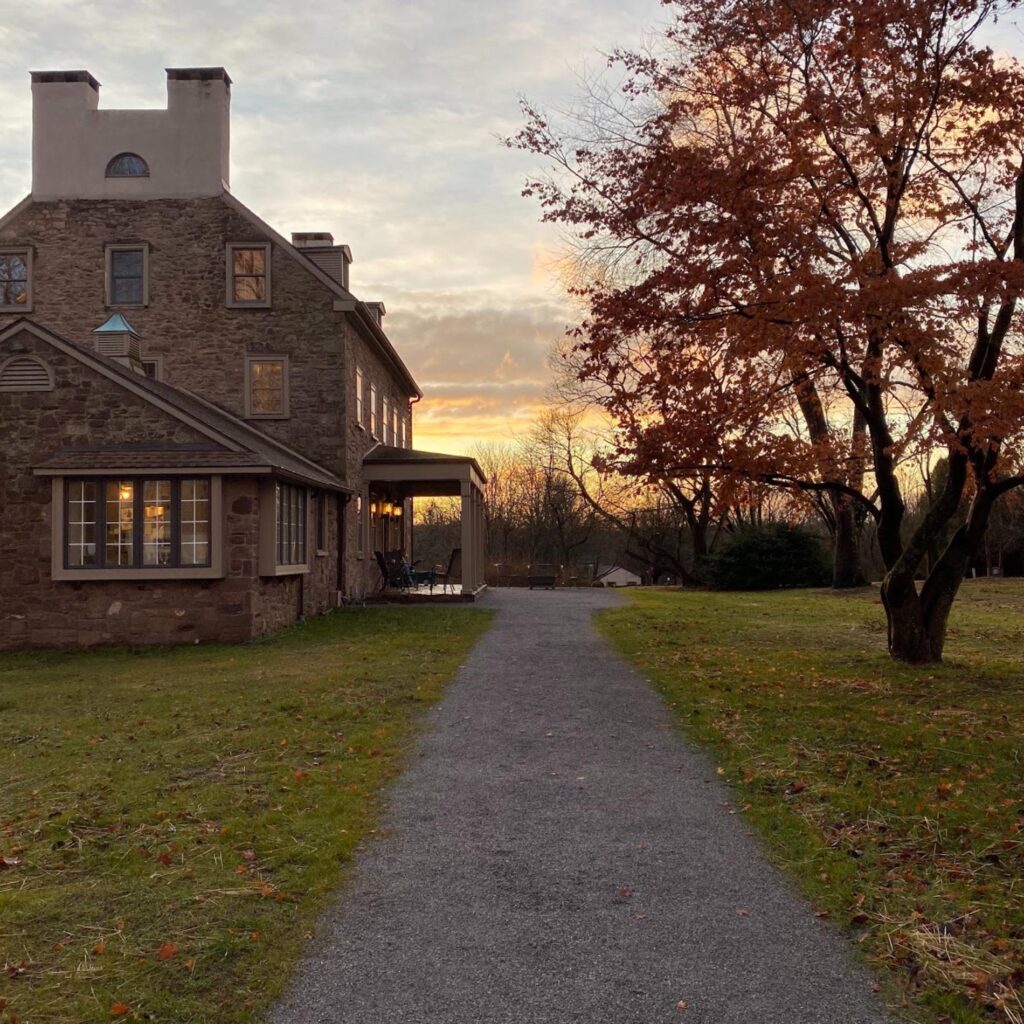 5. Backyard Redesign: Connect Existing Walkway To A New Patio
Here's something that we encounter when we're doing complete landscape renovations for new home buyers. Did the previous owner install landscape elements that you want to build on or modify as part of a final ''backyard makeover' design? Walkways and landings can connect new spaces to existing ones. If the condition and style is satisfactory, we can link new and old hardscape elements successfully… and most importantly- seamlessly. This can help free up space in your budget for other elements you want to include in your backyard design.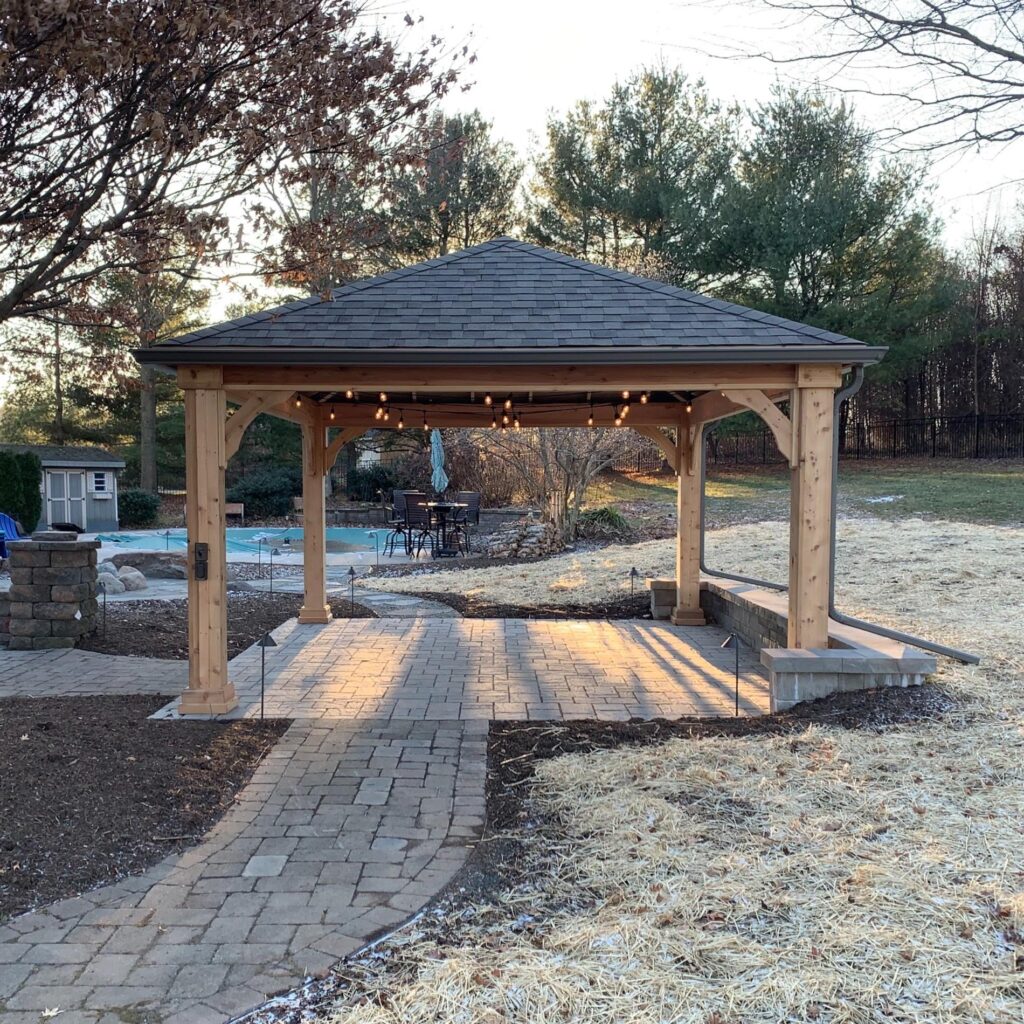 Above: An existing walkway was connected with a new patio surface at this home in Bucks County, PA.
6. Add a Small Coffee Patio For Two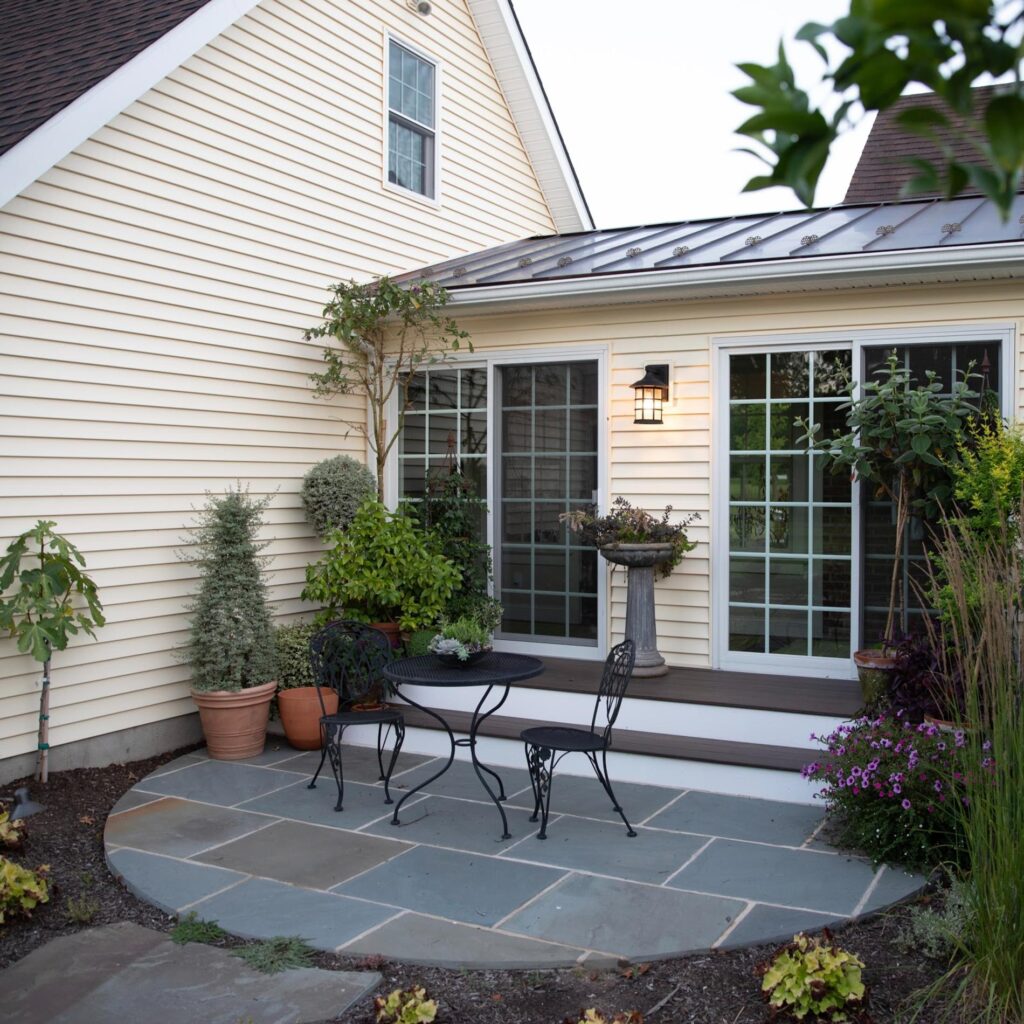 7. Patio & Patio: Add A Separate Wood-Burning Firepit Area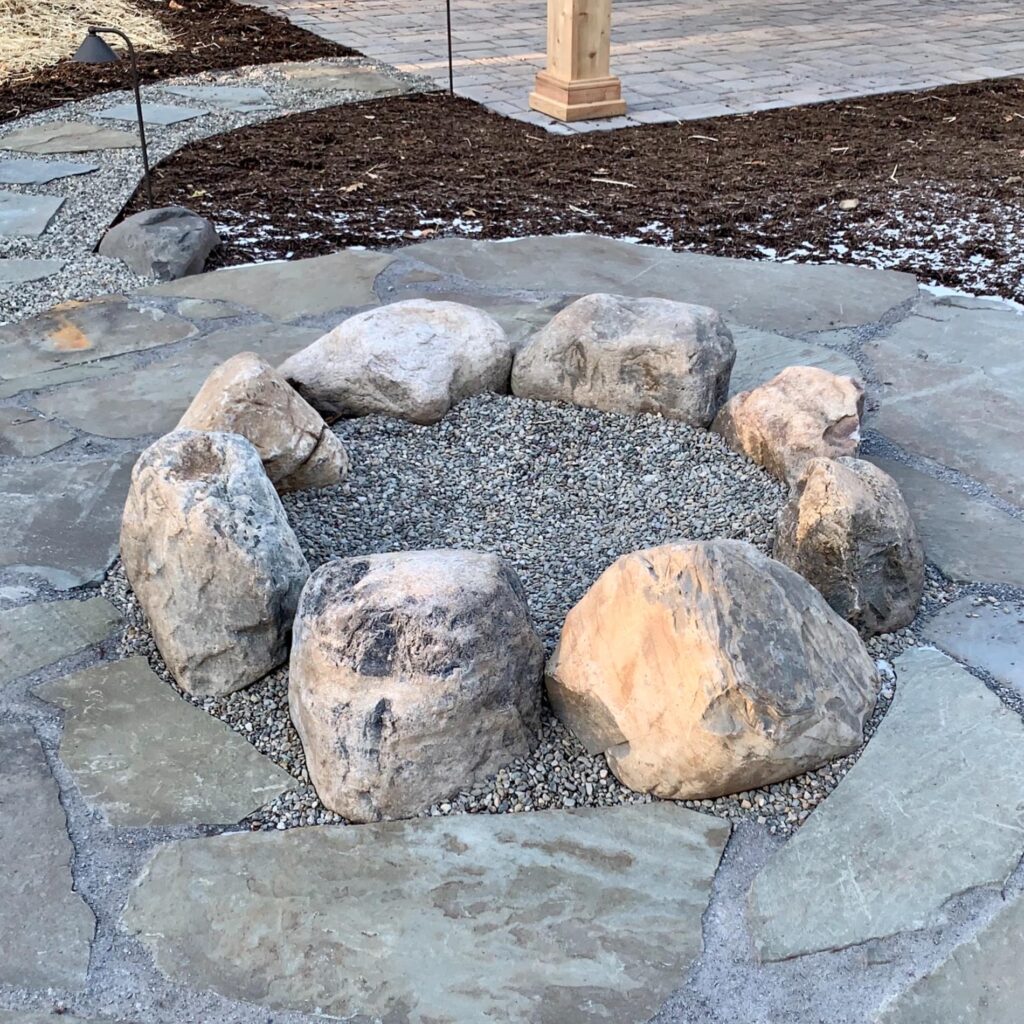 Above: Just a few steps away from a patio covered by a pavilion is a wood-burning fire pit.
8. A Sports Lovers Outdoor Kitchen
This is when outdoor living starts to get really fun. Here's an idea… not one but two functions for the family- via a two room patio. An outdoor entertaining area where you can cook and watch your favorite team-… which is the Philadelphia Eagles, of course!
The barbeque is built in and separate from the entertainment area, so kids and guests can hang out until… 'Okay everybody, dinner is ready!' without missing a single moment.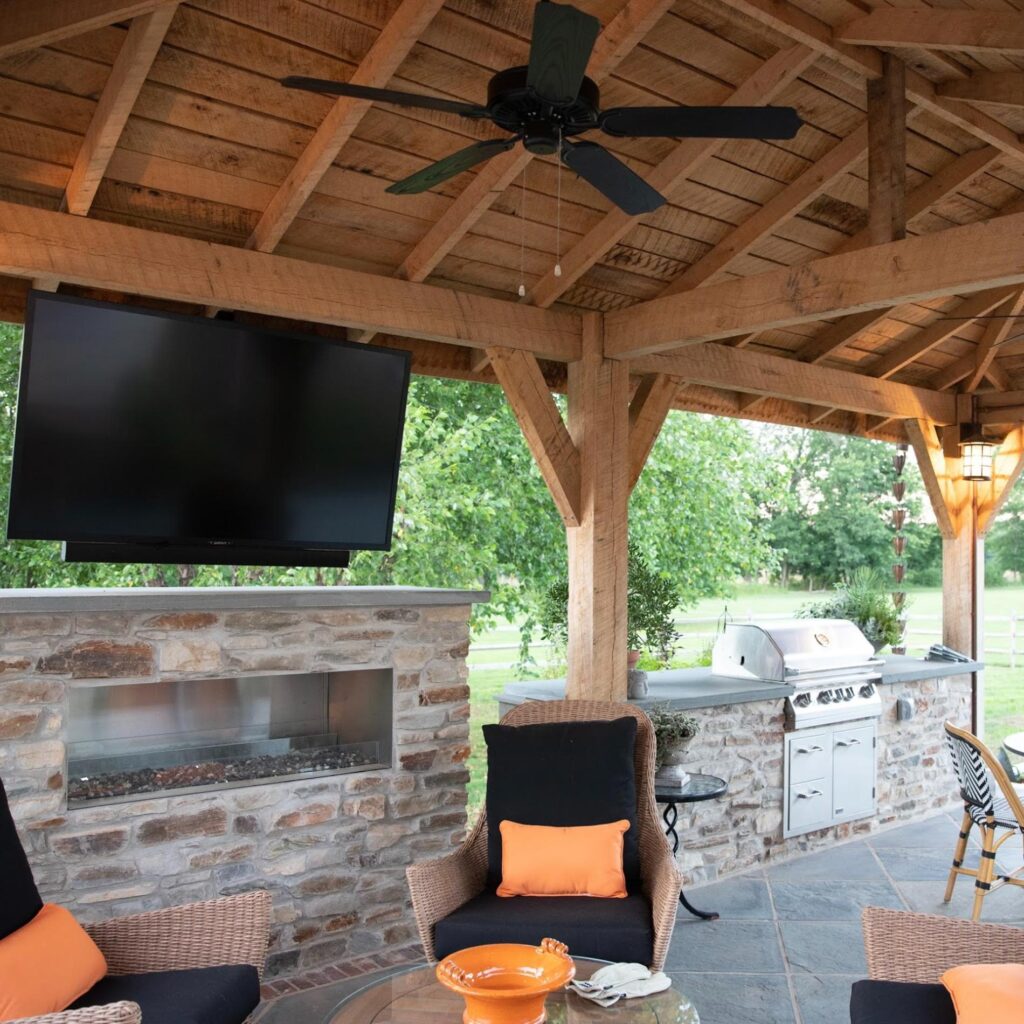 9. Backyard Patio: Florida In Bucks County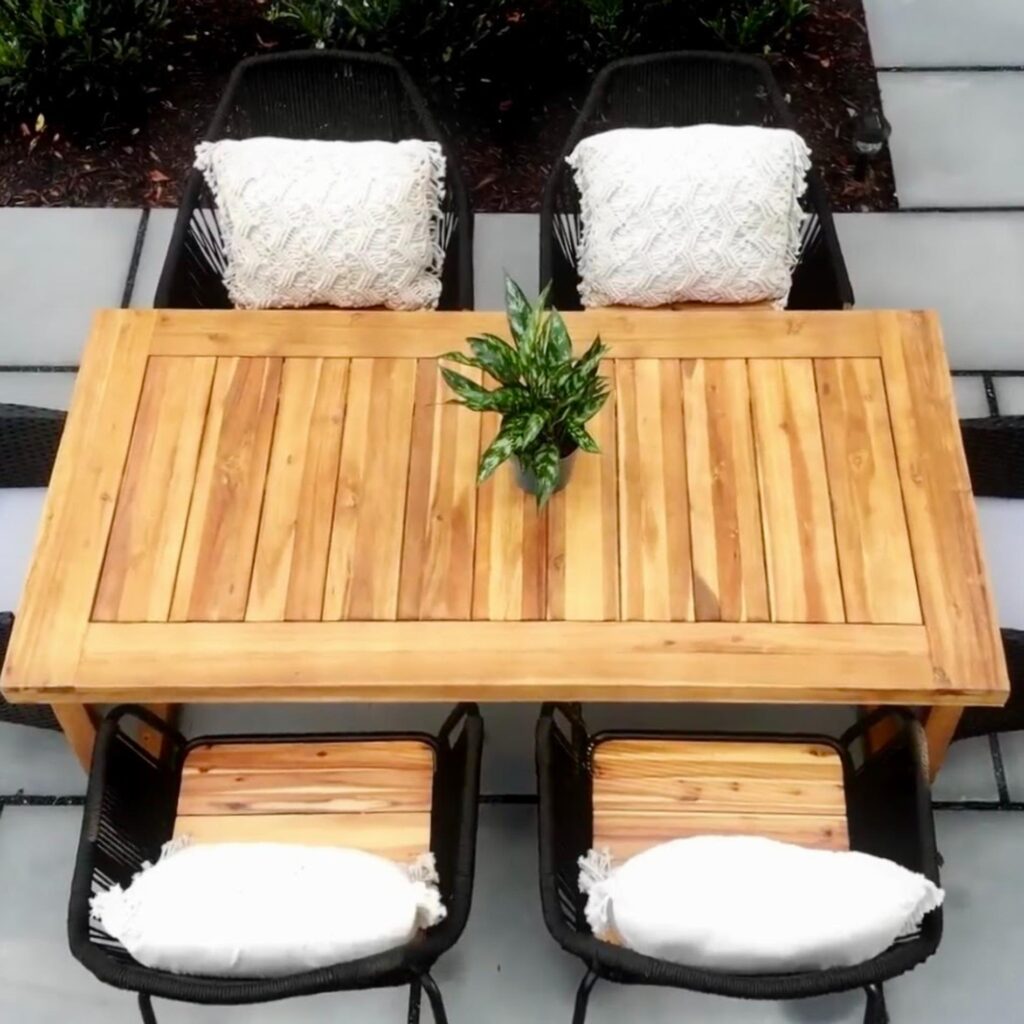 Save the plane tickets and let your backyard patio help you re-create some of that happy-vibe you get at the moment your plane touches down at MCO.
10. Make Your Patio More Than One Level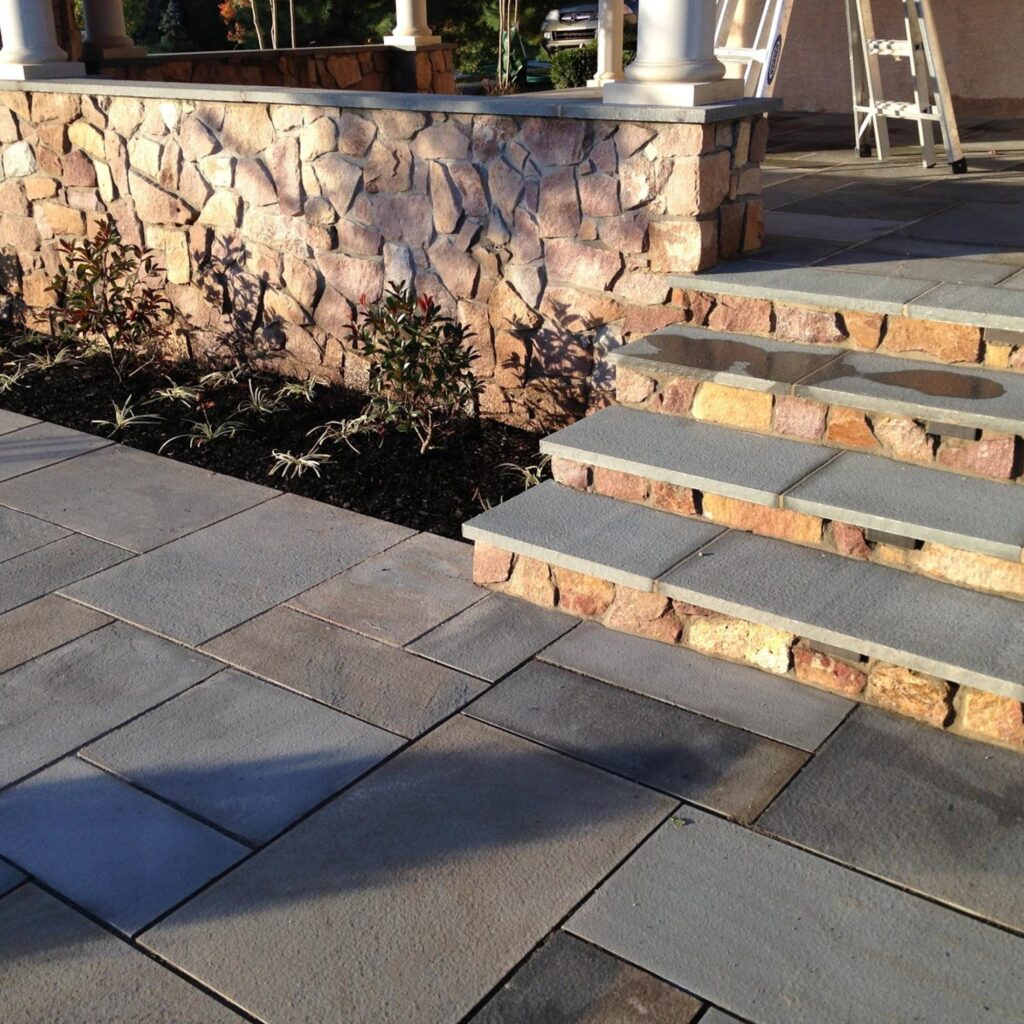 Above: This backyard patio project that we completed in Yardley, PA called for two levels out of the same dimensional bluestone and veneer stone to create two distinct outdoor spaces.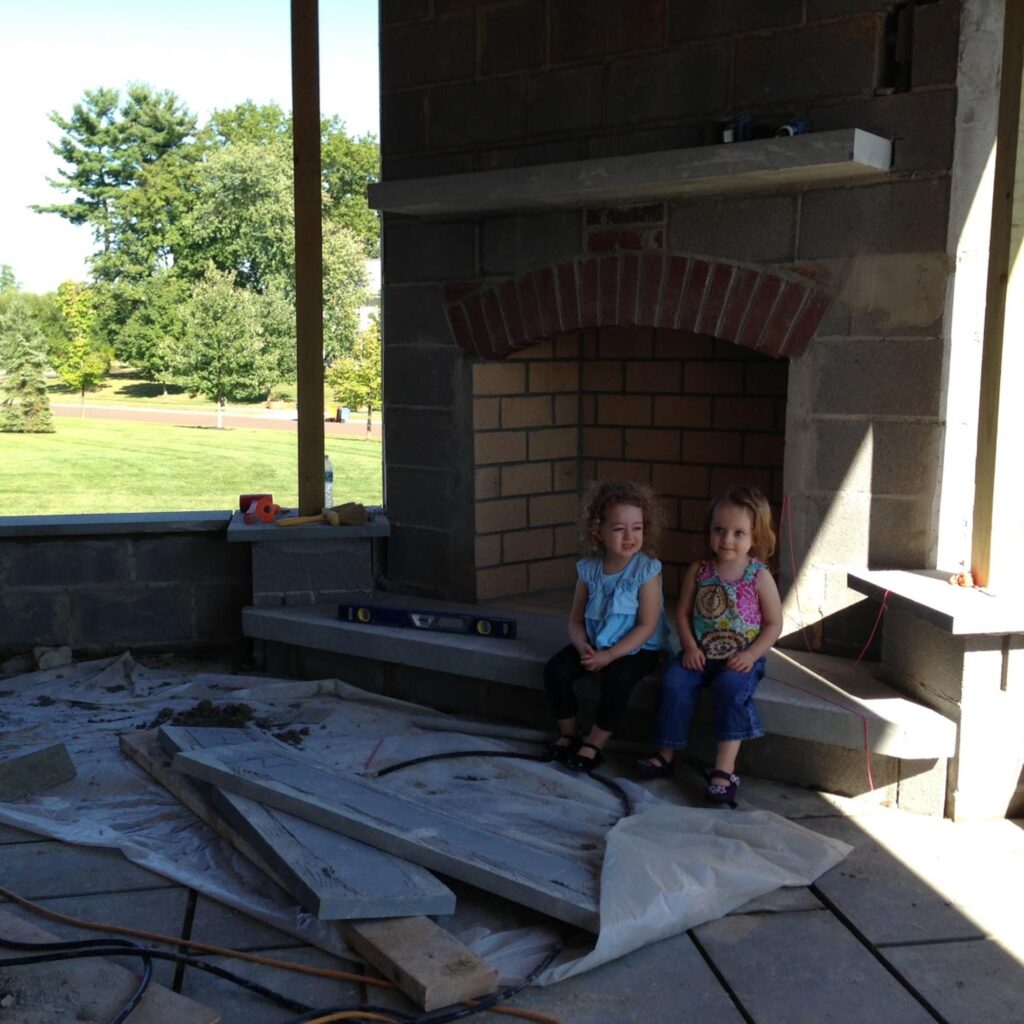 Above: Here's the same patio from above while under construction. A visit from 'the bosses' is always good for keeping the big picture in mind- who we are building for and how they are going to enjoy the space. Seeing the future occupants of our space is awesome motivation to keep the quality of our construction where it should be!