Once you've decided that you're ready to have a pool designed and installed- there will be some choices to make. Taking in good information about pools and all of the ways they can be done- beforehand- will certainly help you better navigate the process.
There's a fair amount that's involved in selecting the best pool for your needs and budget. That includes things like landscaping around the pool, deciding on a patio material and installing the surrounding hardscape, what shape the pool will be, what kind of features it will have- where to put everything and who will coordinate all of this. And don't forget about: Who should design and install my pool?
At PLANT, we've worked with many customers through the pool design process- and we've heard it all when it comes to what people want to have included in their final design and installation. So, here are some of the best things to think about when you want to have a pool designed and installed at your home. (Things to get right, etc, areas of prime concern)
1. How to Choose the Right and Light Pool Patio
When it comes to the patio around your new pool, steer clear from any kind of dark colored paver, colored concrete or stone. Dark red or brown pavers and even brick and bluestone can look beautiful- but the material will attract the sun and inevitably get hotter than your tippie-toes can imagine.
For this reason, stay with neutral colors when you're going to have any kind of hardscape or walkway installed around or leading to your pool. Your feet will thank you for it! In this photo we used a bluestone look alike called "Bronte" because it is lighter/cooler than Bluestone but it has the same dimensional look and traditional stone patio feel. Pool decks we have installed are typically between 600 and 1200 S.F. and can cost between $10 per S.F. for basic brushed concrete or $40 per S.F. for natural or stone.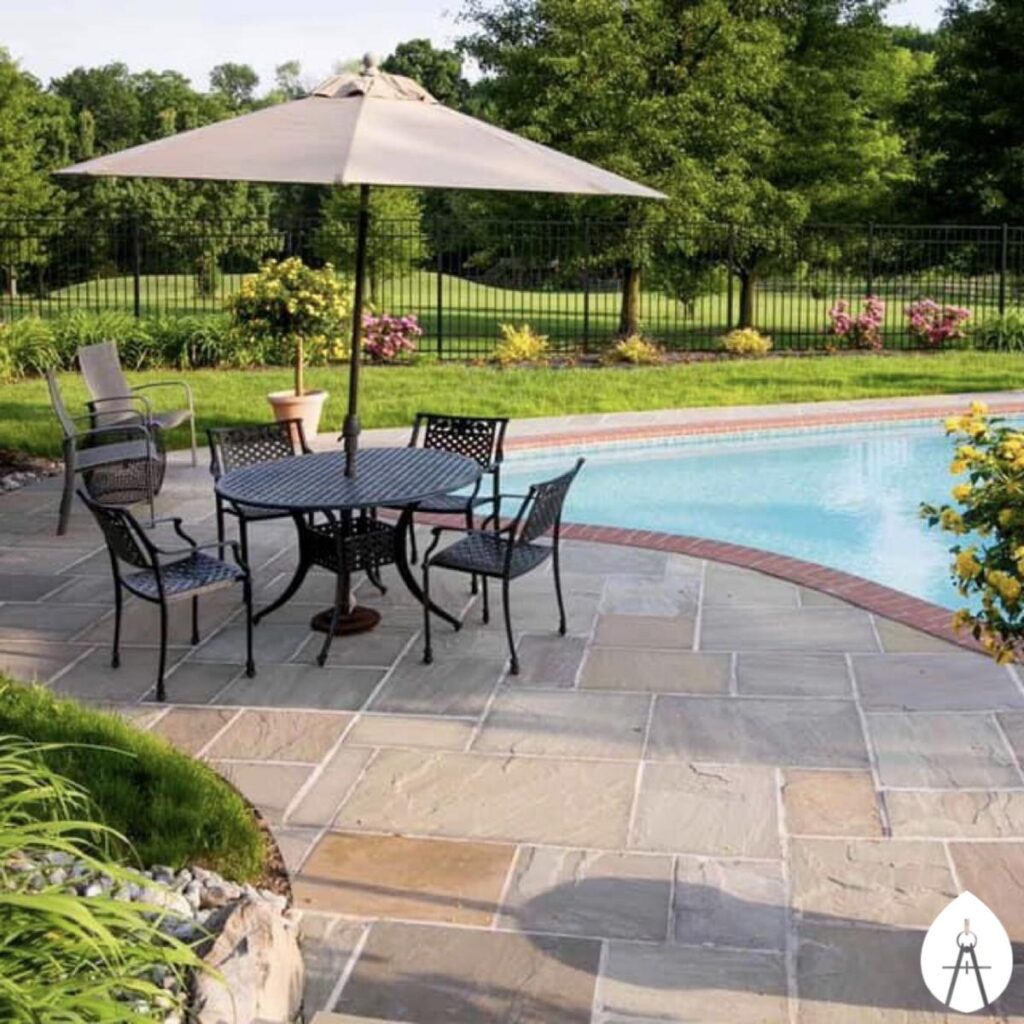 Above: Stick with lighter colors for the hardscape material around your pool or it will get too hot for bare feet!
2. Make The Pool Bottom Black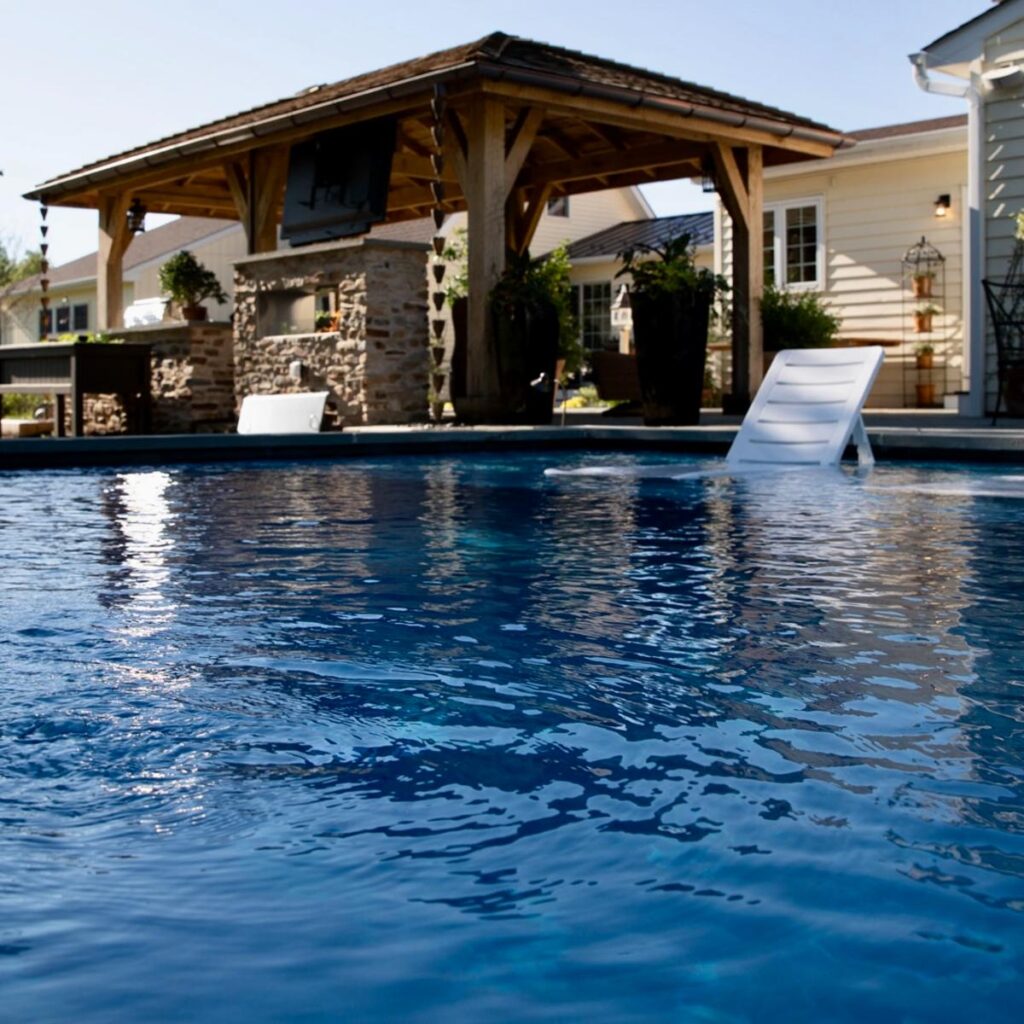 Above: Dark pool surfaces absorb more heat from the sun, raising water temperatures in the process.
This might sound somewhat off-the-wall at first- but having the base of your pool painted black can do wonders for the temperature of the water and your wallet. The color black attracts sun as we all know- and this works with pools. Although it might not be the ideal aesthetic choice for everyone- this pool option might be one to think about if you or your family likes to have warmer than normal water temperatures.
3. Add Colored Lighting In & Around Your Pool
Color-changing, app-controlled lighting adds very little cost to the overall project but it can be a really cool sizzle feature that enhances the beauty and fun factor. A lot of people are talking about trying to use Philips Hue lights in a pool. Though it is currently not marketed for underwater use, here is a good $120 bulb option (available on Amazon) to put a "splash of color" in your pool area.
4. Put In A Water Slide!
Remember when you were a kid and you first experienced a water slide? Maybe a friend or neighbor or someone you knew had one? Now, it's your turn. Surround your slides with boulders for a feel that's nothing short of natural. A lot of pool installers don't want to install slides because it is a time consuming installation process, but many of our customers believe that getting into the pool should be as fun as swimming into the pool. A 15' pool slide can cost between $3,000 for a DIY slide like this or $15,000 – 30,000 for a 17' professionally installed slide like the one below.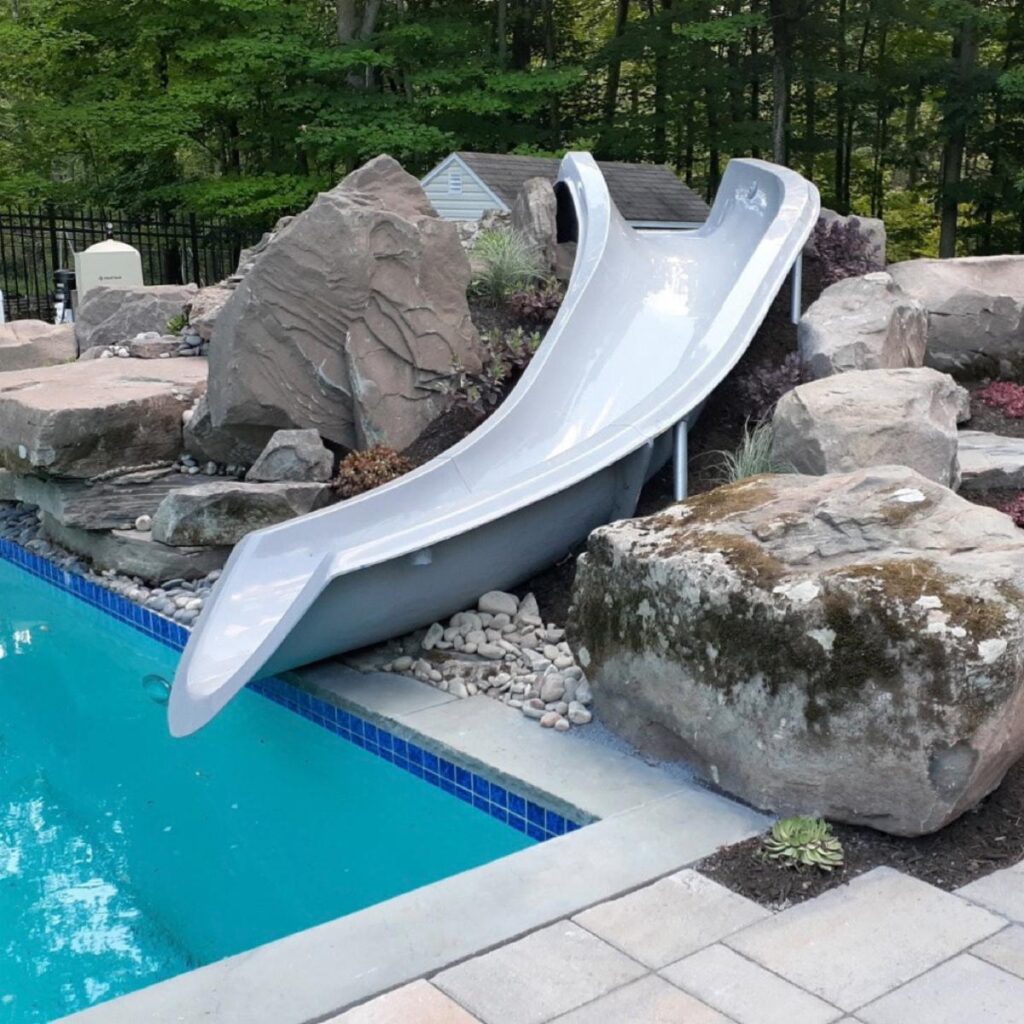 Above: Having boulders and a water slide will make your house very popular.
5. Create A Lounge Area or 'Chill Spot'
Having a private area for people to change up clothes and get into their swimming gear is one thing, but you also want to think about a place close to the action where you and your guests can tan, read or enjoy a beverage without leaving your favorite views.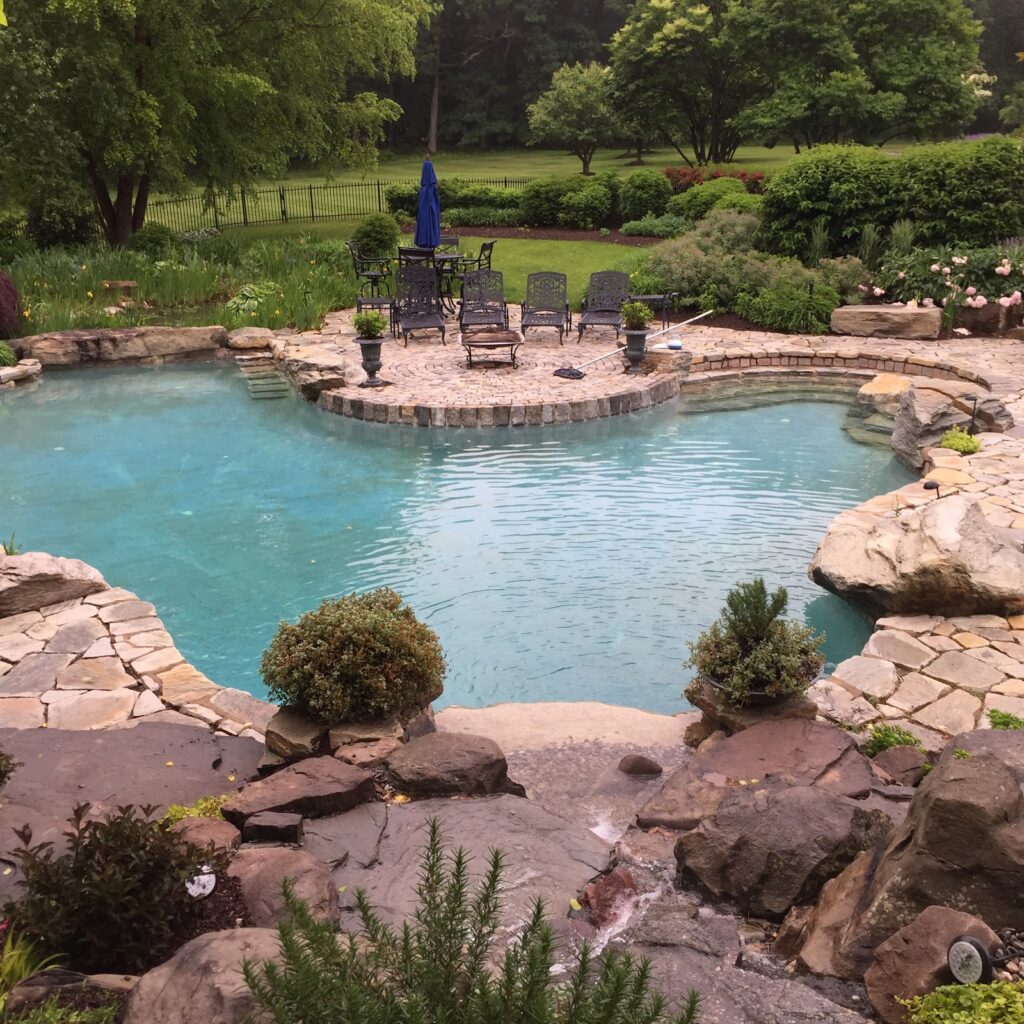 Above: A nook at the pool area is a perfect relaxation spot.
6. Poolside Boulders, Baby.
Not only can boulders help your pool to blend into its surroundings, they can also be put to use in other ways, like creating privacy or an artificial hill for a slide. The most important thing when choosing natural stone boulders for around your pool? Make sure you choose the right size so that the scale feels "right" and a complementary color so they are coordinated with the rest of the space.. Boulders can serve as a fabulous foundation material for stone slab steps in addition to providing aesthetic value.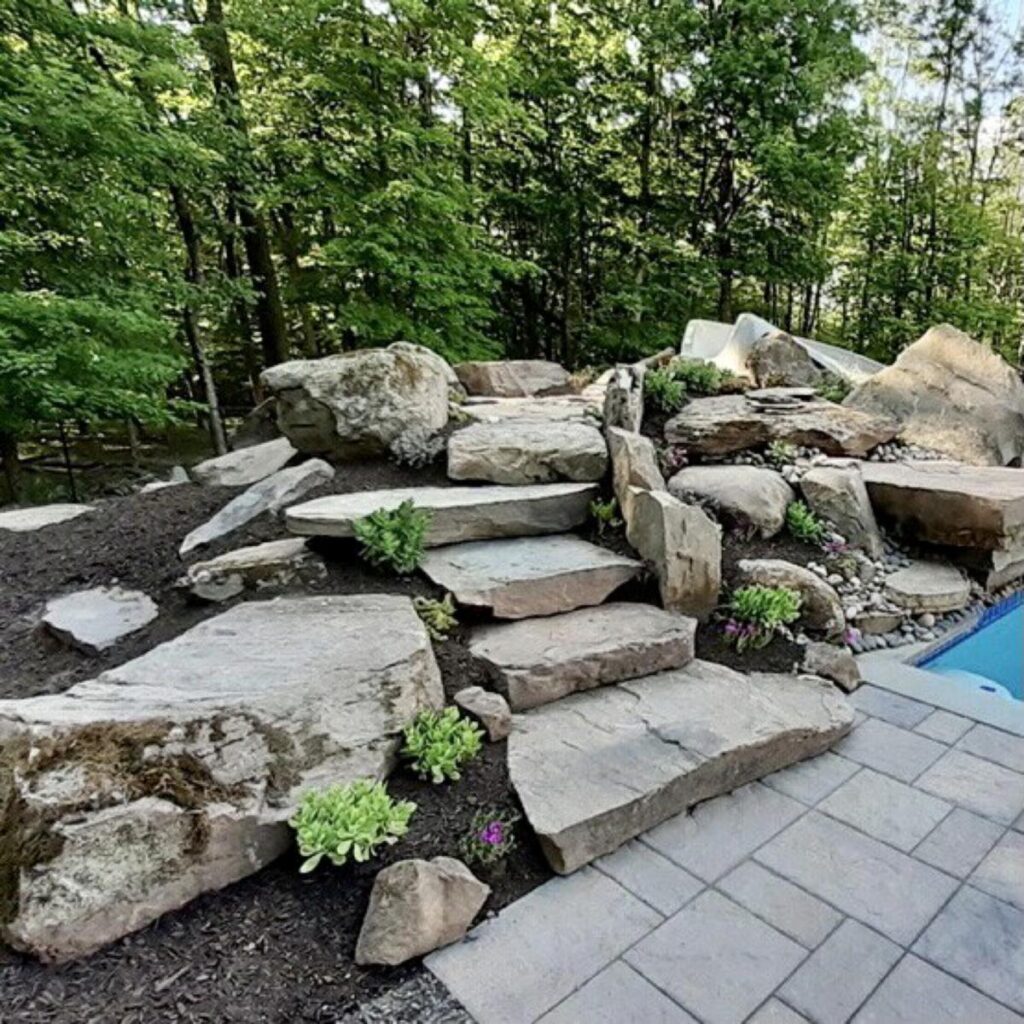 7. Where Will The Pool's Equipment Be Located?
Pools are cool. Seeing a bunch of piping and knobs and levers at a graduation party? Not so cool. For a really finished feel, it's important to think about where the pool pumps and service area (wording?) will be located. This room can be relegated to a pool 'house' or a pool house depending on your budget.
8. Add A Privacy Hedge or Tree Screen. This can be included with the previous one
If you've never had a pool at your home, you might not have really had a reason to come up with a privacy solution. But when you're going to be in a swimsuit- you could start to change your mind!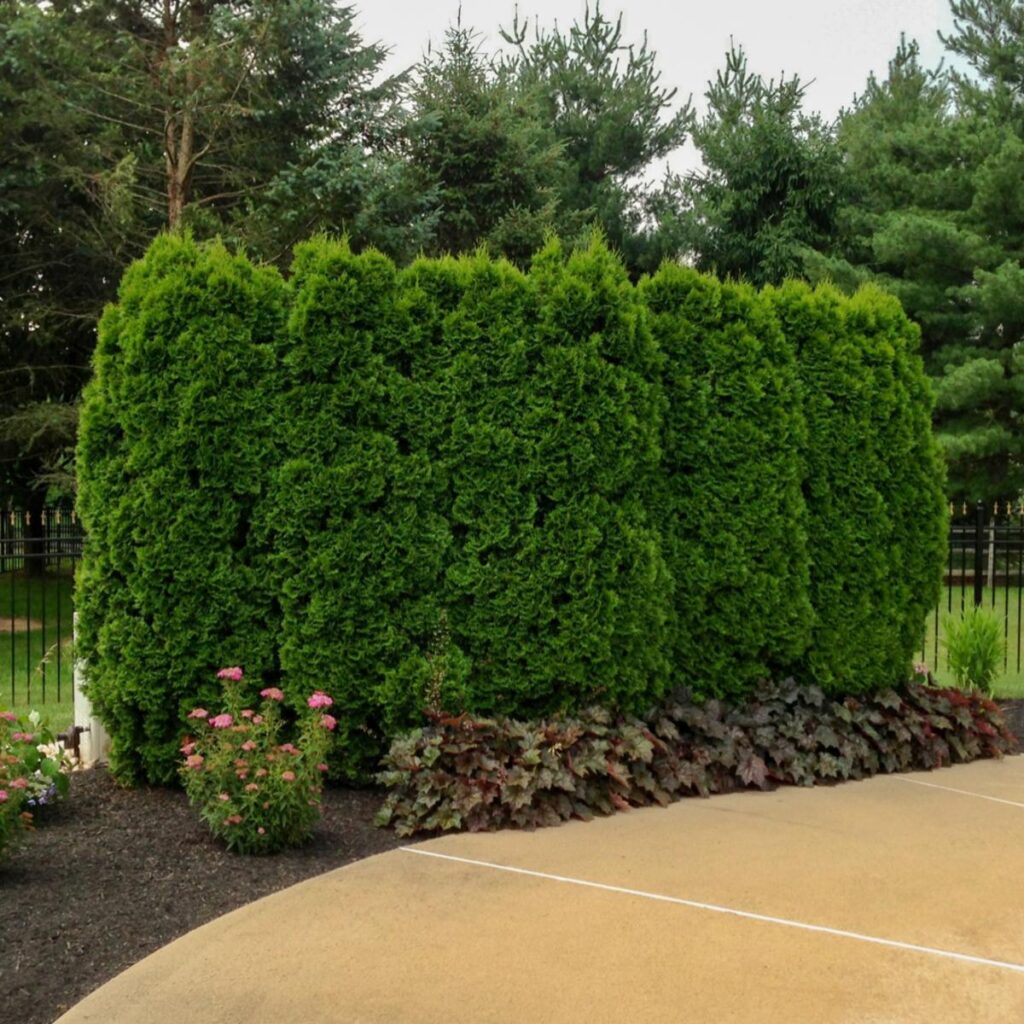 Above: An evergreen privacy hedge gives some extra comfort while poolside.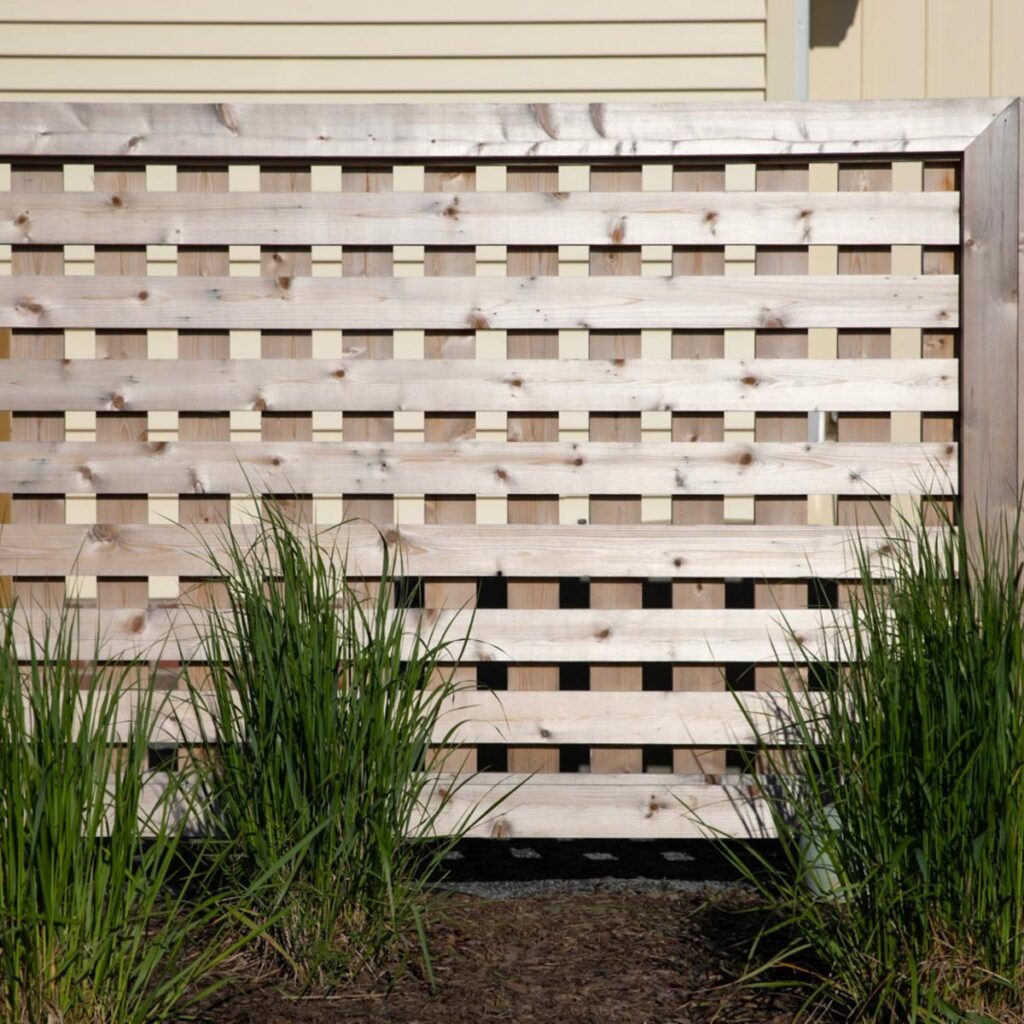 Above: A cedar screen provides for a long-lasting, privacy screen.
9. Get The Best Overall Pool For Your Budget
The 'best' is different for everyone. You need to find the best pool for you and only you.
10. How Are You Getting To Your Pool? Connecting the pool area to the rest of the home with walkways.
You might well have seen them at one point or another. A pool that is just kind of 'there.' 'Not fun,' you think as you trudge through uncut grass, disgruntling bees and who knows what else. You just want to go take a dip to beat the hot summer heat. Clearly, the whole plan wasn't properly thought out OR executed. They built a pool but dropped the ball when thinking about coordinating the natural traffic flows. How will you access your pool? The biggest mistake I see is putting a pool too close or too far from existing outdoor entertaining areas.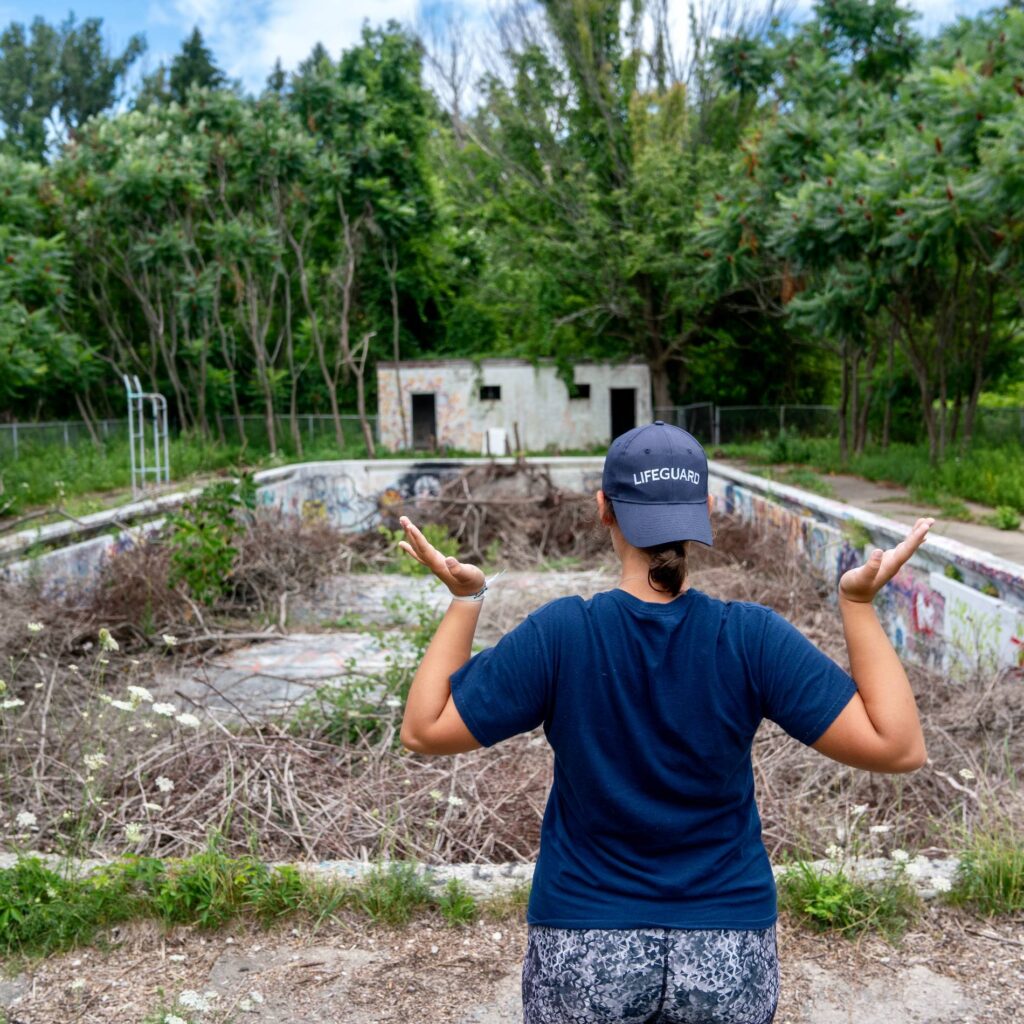 Above: How NOT to do it. Whoever installed this pool design clearly didn't bother with walkways.
Walkways can seem so straightforward that they're easy for people to forget about in the midst of the more 'fun stuff' you will consider during the pool design process.
To get it right, you will want easy access to your pool area from the main entrance or driveway as well as your existing outdoor living area. And if little kids will frequent the area, you will want to think about safety fencing or security latches on access doors, not to mention that the pool will need to be in the right sight-lines from the space from which you will be supervising.
11. Connect Your Poolside Grill To A Permanent Propane Tank
When there's a grill next to your pool, whether you like to grill black bean burgers, portobello mushrooms or a searing a good- ol' fashioned Beef patty, lets just say that none of us likes the feeling of cranking up the grill to have it peter out just before dinner is served. There is a simple solution! Connect your grill to a permanent propane hook up. You don't need a fancy built-in $1,500 grill like the stainless grill (unit only), you can get any grill connected to a propane line!