So you're considering (or have already decided) to add a covered patio to your backyard. Unsure about exactly where you want to go with the design? That's where we come in. Over the years, we've designed hundreds of covered patio configurations for clients in and around the Bucks County, PA area and have built some unique versions of these outdoor spaces. It is quite literally our job to help our people choose the best patio design for their backyards.
There are countless approaches and features that can be incorporated into your covered patio design so it's tailored to both your personal style and what you will be doing in the space. Here are 11 Best Covered Backyard Patio Ideas that we've used in the recent past for our clients.
1. Incorporate A Stone Outdoor Fireplace
Yes, an outdoor fireplace. Yes, you can have a hearth designed for underneath your covered patio. When you settle in you might almost forget that you're outside… until a cool breeze moves in and reminds you.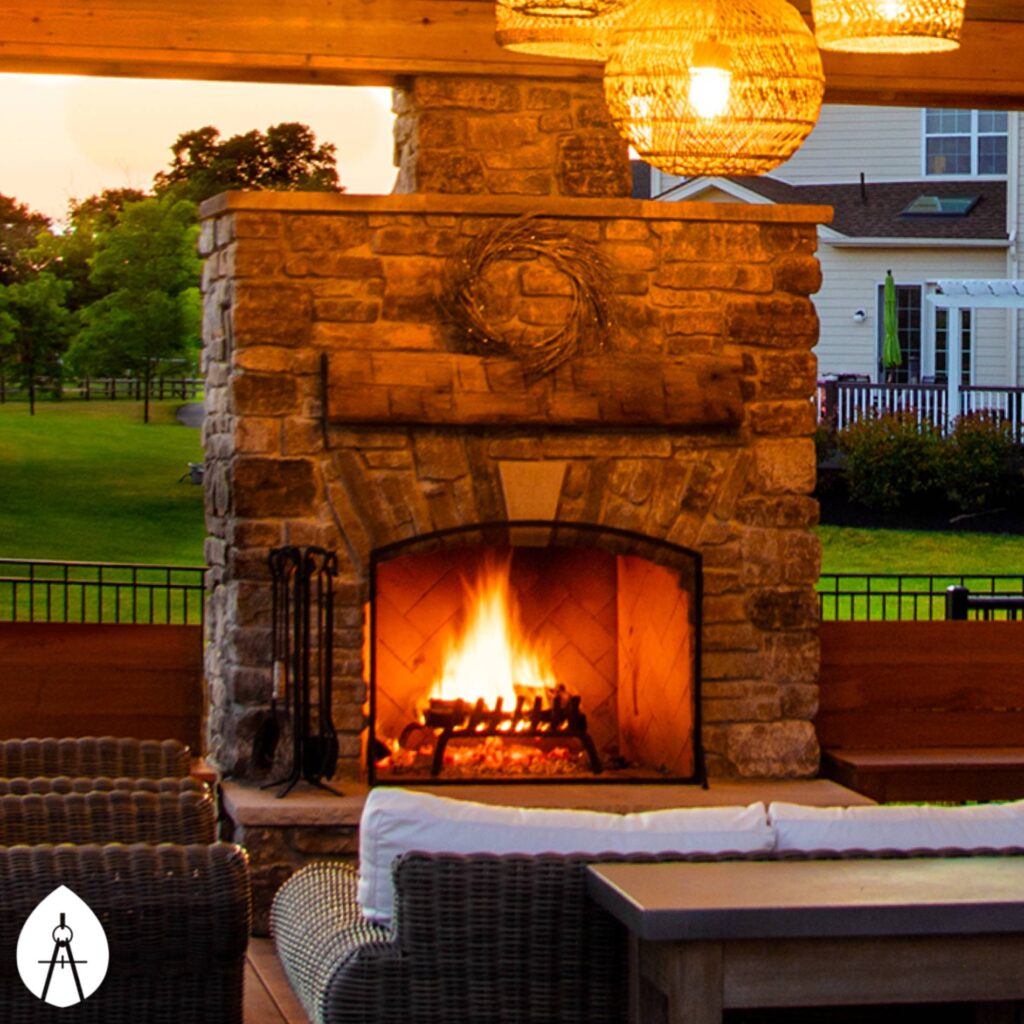 2. Use Drapes To Create Instant 'Shade Walls' For Your Covered Patio
This idea can really add a degree of versatility to your space with hardware that can be installed at the roof line. This hardware is designed to hold drapes securely- which can be removed and easily switched out for the season or for a new look. The best part is that since this style of drapes are removable- you can always freshen the color or slightly different fabric type that's more in tune with the seasonal weather or your evolving taste.
3. Designing Tropical Vibes: Bring That Beach Feeling Back With You
Wish you could go to the beach? How about your own beach? And that beach is at home. Nice, right? Decorate with grasses, weathered wood and beach-themed accessories.
4. Use The Right Material For Your Patio Cover Structure
A material will only perform to the extent of its attributes. When it comes to the material for the outdoor structure that will cover your patio – think weather-resistant and strong.
Look at the material used in this patio's pergola. It's made of cedar. Cedar is naturally weather resistant, repels most bugs (cedar oil is a natural insect repellent) and is very low maintenance if properly installed.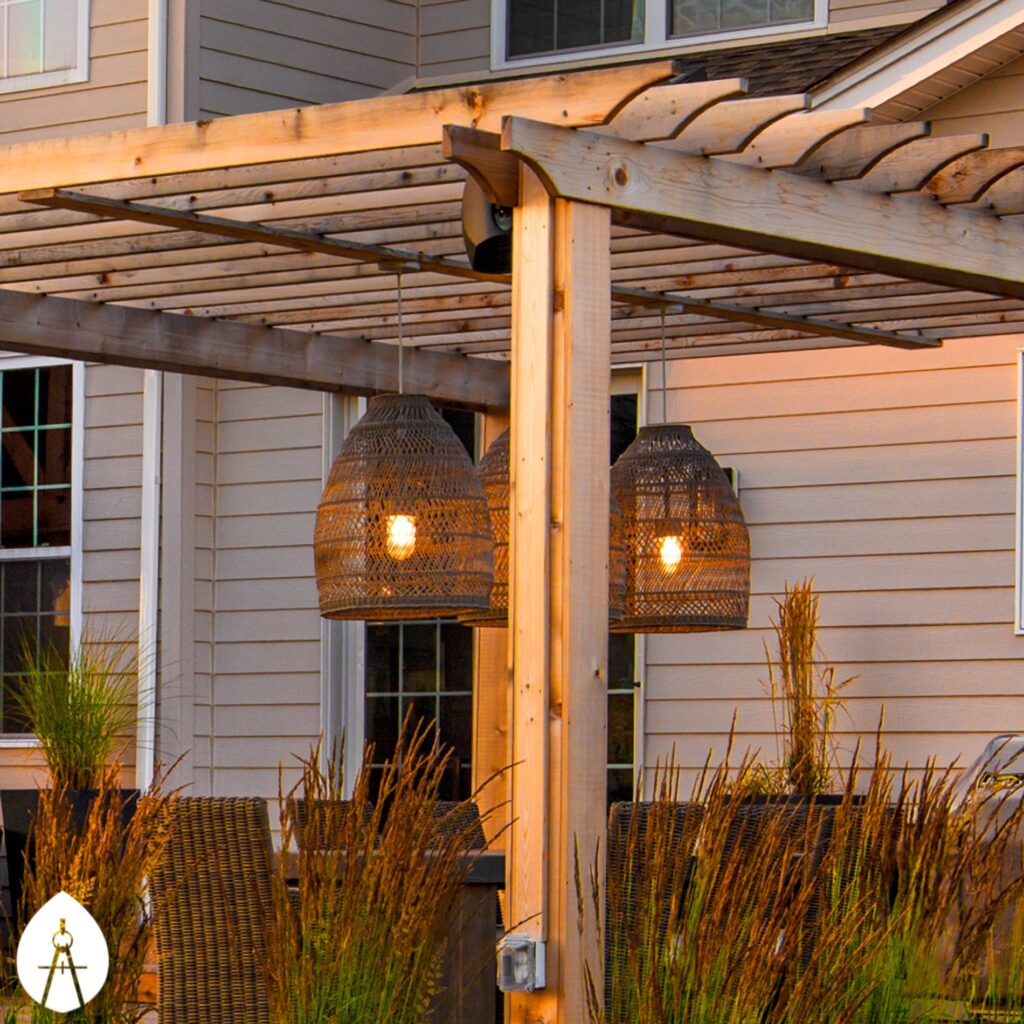 5. Design For Lighting To Get The Most Out Of A Covered Patio
The right mix of lighting is the single biggest factor for maximum usability and enjoyability. But what type of lighting that goes into your patio design depends on what you like to do. Low voltage is great for enjoying late night conversation without attracting too many bugs. Sconce lighting is great for reading. Overhead chandeliers are great for dining and dinner parties. And don't forget to install an outlet on a switch so you can power up the classic Edison string lights for a truly 'Pinterest-perfect' outdoor experience.


6. Welcome To Joe's Bar And Grill
When it comes to outdoor bars- we've created a few private kitchens that could go head to head with a real bar & grill! Running water? Check. Beermeister? Check. Fridge? Warming Drawer? Check, check. You get the idea. These covered patio outdoor kitchens are very popular and are available for most budgets.
7. Wood-Burning Fire Pit Underneath A Covered Patio
Rainy day? Fire pit, no way? Yes, way. Even in the rain, you'll be one of the few enjoying a warm and dry, campfire style experience with friends and family- right underneath your covered patio.
What about all of the smoke? Will the roof get too hot? You might not have pictured a wood-burning fire pit crackling away underneath a covered patio, but that's what hoods and chimneys are for. With a properly designed chimney or exhaust, a fire pit can safely keep you and your guests toasty while still having full, overhead protection from the rain and snow.
8. Bringing The Living Room Outside!
When you think of sofas and throw pillows and blankets you probably aren't picturing them outside. Squint your eyes a little harder and go with us here. Make your covered patio yours by designing for furniture that feels like home.
9. Bring The Dining Room Outside!
In our line of work, there are some things that just ring true year after year. And our clients who choose to create an outdoor dining area consistently report that it quickly becomes a central hub for family dinners and game time. Whether it's situated on the deck or underneath an enclosed patio- having the luxury of being able to eat in nature is nothing short of beautiful. You can either choose to go big- dedicating an entire space for use of a dining area- or create a nook or 'less conspicuous' bistro-style dining corner. Wherever it is, you'll likely enjoy it.
10. Design Your Patio With Two Levels
Level changes in your patio design will help to keep big spaces feeling intimate. Such a design element helps to create a degree of separation between rooms. While the parents gather to enjoy a few cocktails, the kids are doing their thing in a space that's just for them- playing away the early evening in the outdoor play area. Isn't it nice when everyone gets what they want?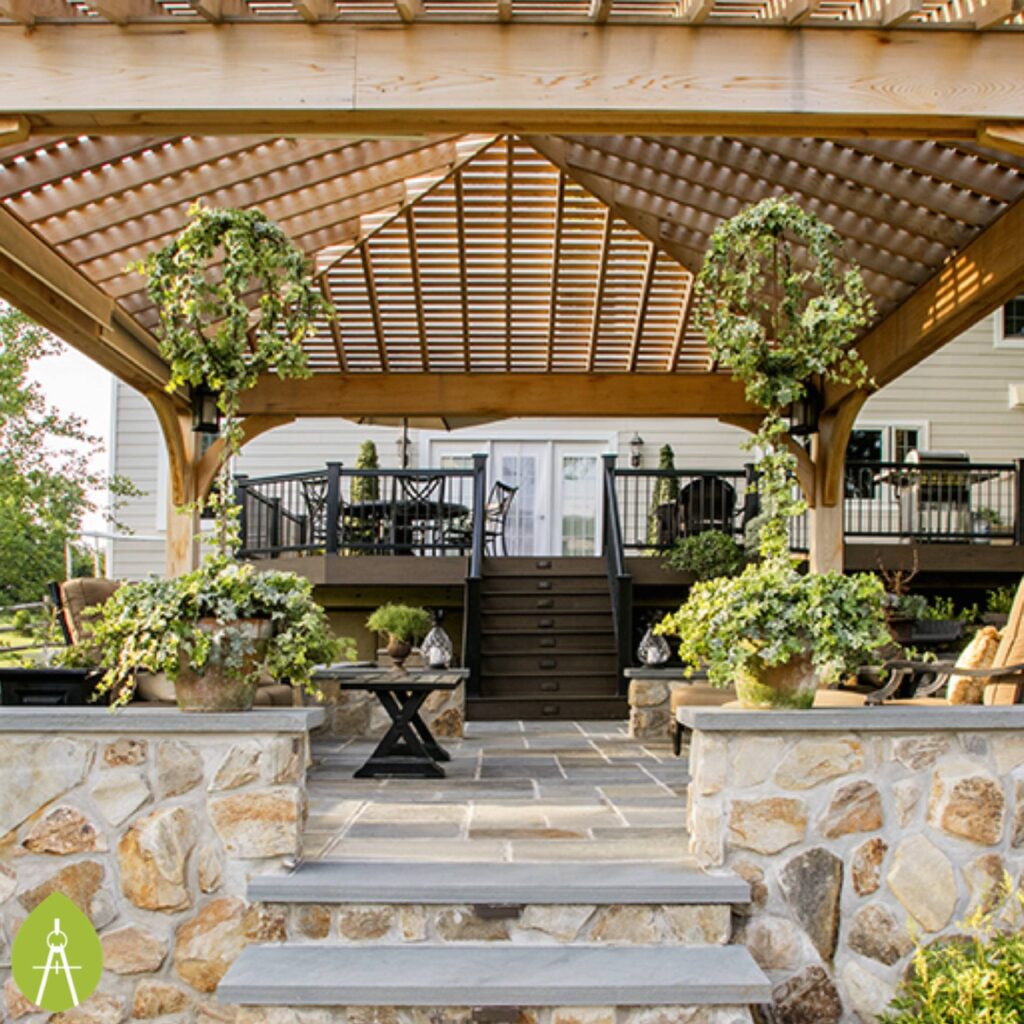 PRO TIP:
If you haven't already, start thinking about your covered patio space-to-be in terms of being another room of your home. When a backyard patio is designed, built and accessorized in the right way, these outdoor 'rooms' can feel a lot more 'homey' than you might think.
11. Be True To Your Covered Patio Furniture Game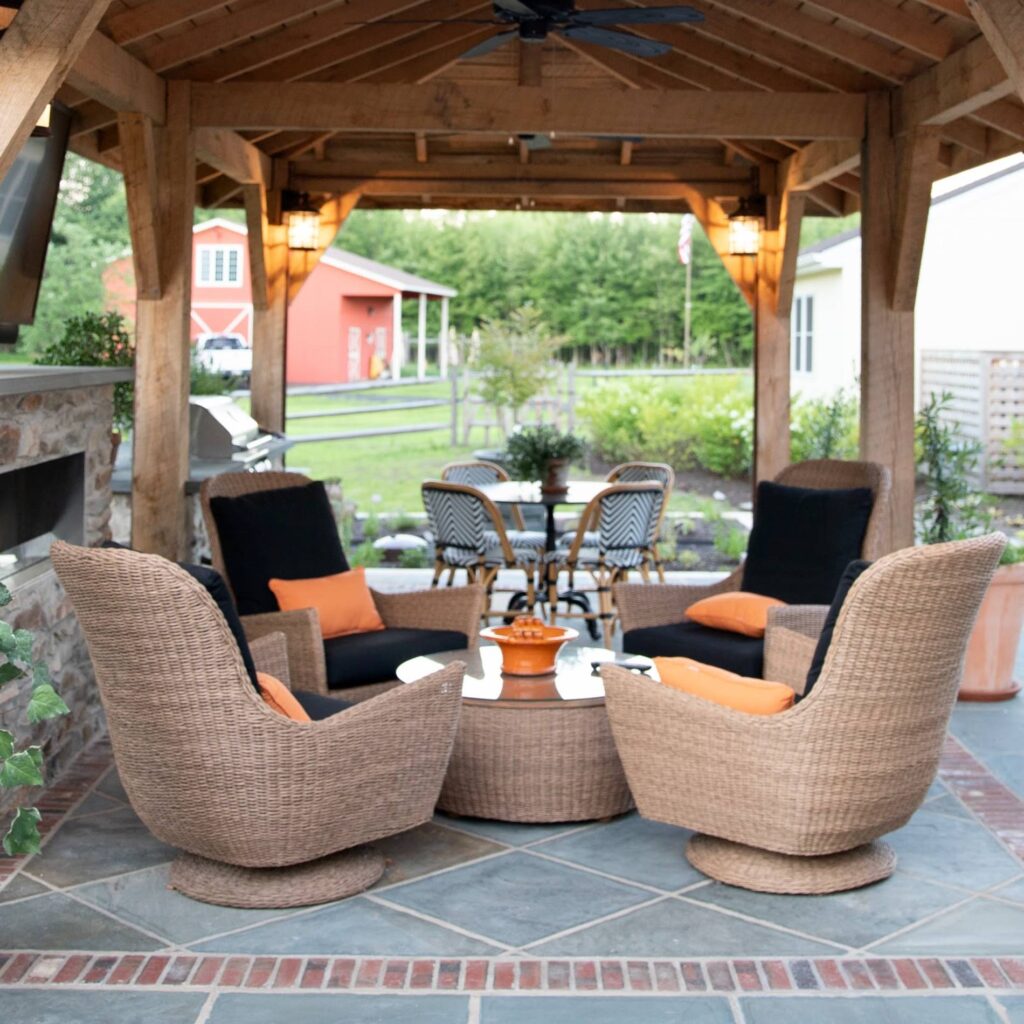 This patio's furniture gets its cover from the white oak pavilion that is built on top of it. The bluestone and brick patio surface adds detail and visual appeal.
You don't have to end up with that powder-coated made-to-sit-outside forever style stuff. You know, It's not the most comfy. Many of our clients choose to go with higher-end furniture that feels like it belongs to this extension of your home- Restoration Hardware also has gorgeous, well-made outdoor furniture that our clients love, even though the price tag isn't for the faint of heart.
Remember, the sky's the limit when it comes to the variety of ways you can customize and stylize and get functionalism from your covered patio. There aren't steadfast rules per se, so start brainstorming outside the box and get with a landscape design team that will be able to translate your vision, however partial, to reality.