What is a garden? I heard a great definition once. A garden is nature + culture. As the cultivator, you arrange nature according to your culture, and voila- you have a garden! The term itself can refer to such a variety of uses and materials- from rock gardens to herb gardens, to kitchen gardens and water gardens.
Some gardens are purely for beauty and stress reduction, while others are built for producing something- such as with a veg garden. Other kinds of gardens don't even necessarily need plants- like with a rock garden. And don't forget flower gardens, succulent, reflection and zen gardens… the list goes on and on.
Over the years, I have seen gardens of every type and kind. It's amazing, but some of the best garden design principles are not so obvious. In order to really have a good perspective on what works and doesn't work in any garden design- you either need to be knocking on doors and asking each homeowner to see their garden or- work in a profession like the one I am in as a landscape designer and contractor.
So, we've spared you the time and have provided some of our best garden design ideas that we've incorporated into client projects (the do's!) as well as some of the design approaches we've seen that you need to avoid (the Don'ts!). Jump into our newest blog: 12 Garden Design Do's And Don'ts for 2021 to get your garden is ready for spring.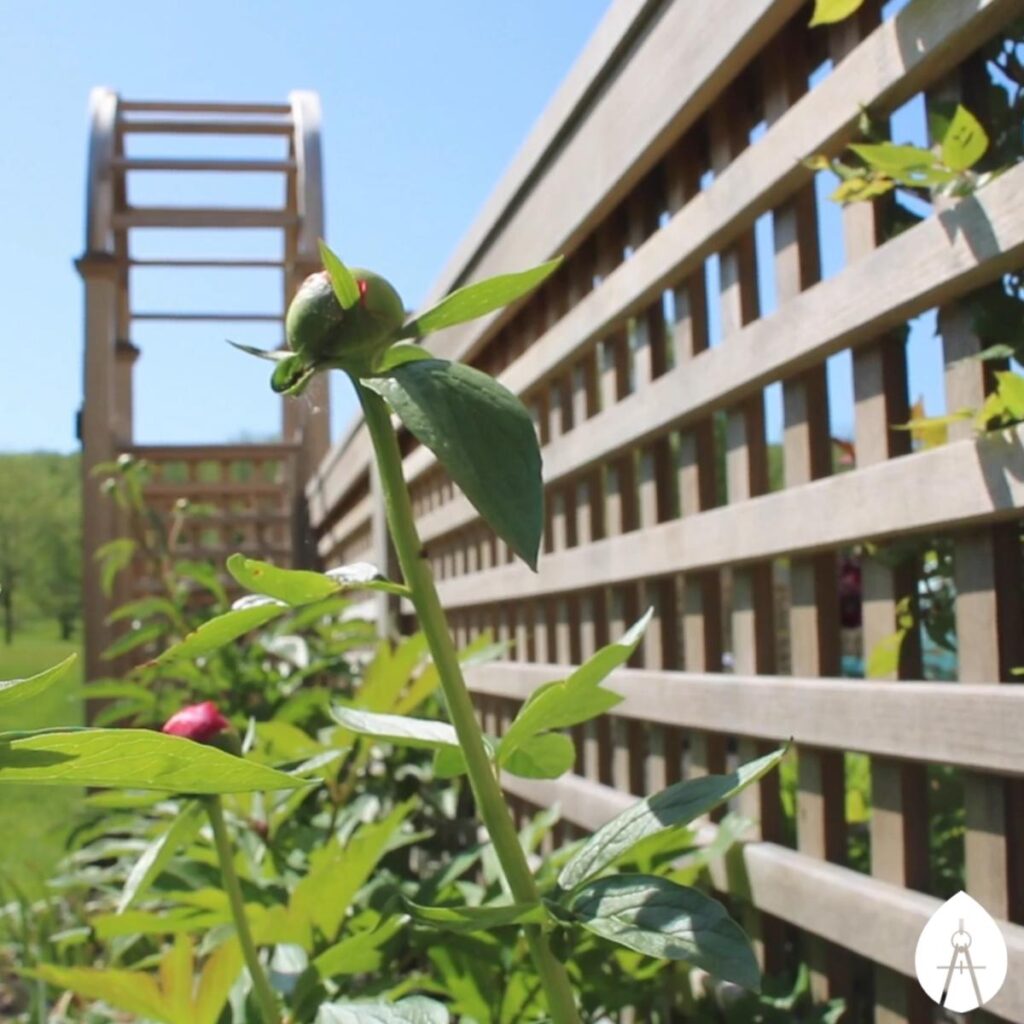 1. Use The Right Material to Lattice, Trellis and Fence Around A Garden Perimeter
Cedar is one of the best- if not the best wood to use for backyard things like fencing, structures, shingles. It is naturally weather, bug resistant and becomes distinct with age.
Lattice is particularly useful in flower garden where plants with vines can take hold and adorn it.
Pro Tip: On Using Cedar As A Material
There's one word of caution when using cedar- don't paint it or bury it in dirt or concrete. Use fastening brackets and finishing materials that allow it to breathe. If you follow this simple principle, you will be amazed at the incredible usefulness, resilience and beauty that this all natural, pest resistant, rot-resistant and aromatic material has for use in your garden.
2. Connect A Walkway To Your Garden Space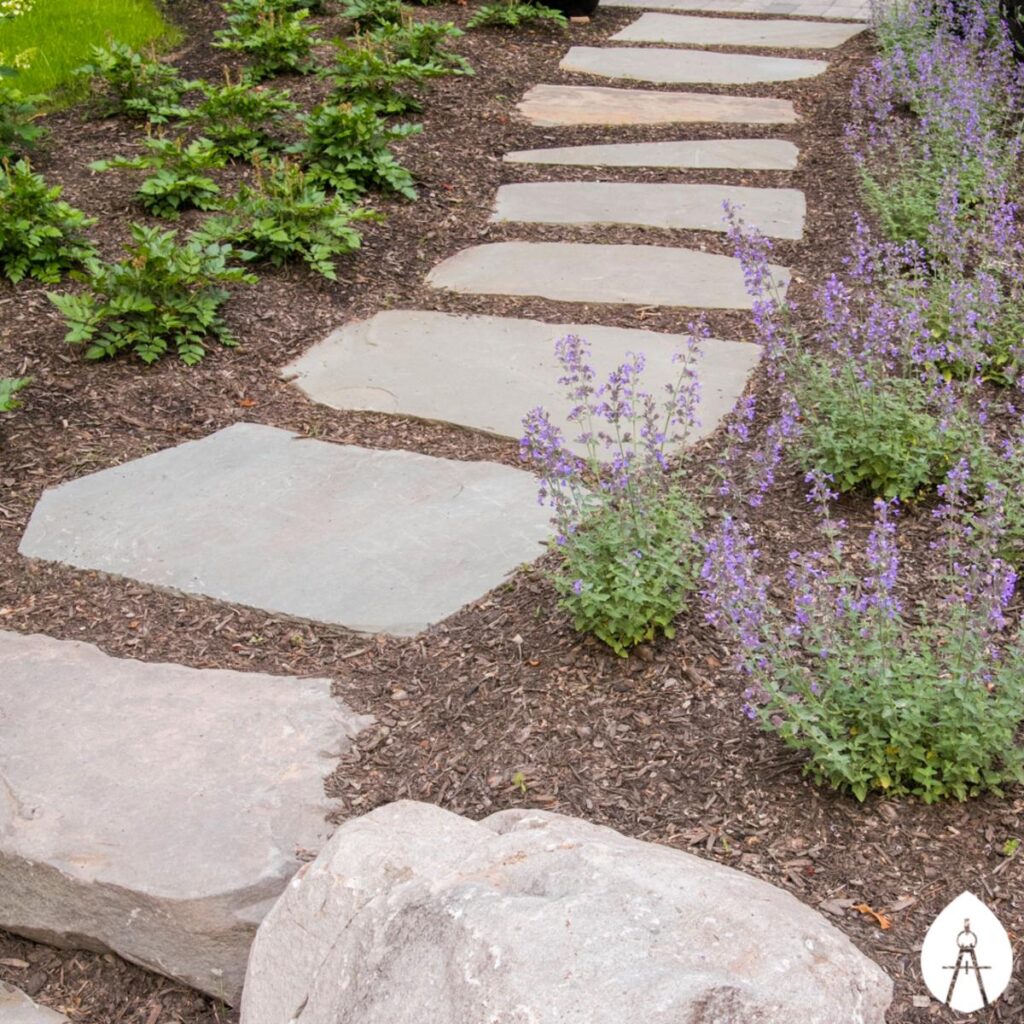 En route to whatever kind of garden you have… making sure that there is a safe, and well-built walkway or pathway will certainly improve the way you experience the daily trip to your little piece of paradise. Such a design can also be incorporated down a slope as well, making a trek that was previously a trap for tripping into a pleasure stroll.
And since morning and evening are often the times we stroll down to the garden, the walkway will help keep your feet dry.
3. Don't Create Gardens In Gigantic, Wandering, Irregular Shapes
If you are your own designer for whatever kind of garden your building- don't make the mistake of getting too 'Picasso!' Avoid going crazy when deciding on the shape, location and size of the garden.
If the garden will be located near the house, for example, keep it somewhat close- not straying and and out too far Into the front lawn area.
Dont make it too big either! The biggest mistake we see is underplanting and oversizing a garden- which makes for a lot of weed pulling, edge cleaning, sweating and well you get it… the 'not fun' stuff!
4. Do Build A Veg Garden- With Borders
If there's one thing 2020 and the COVID-19 pandemic has taught us- it's that being reliant on a supermarket-based food distribution and supply chain can be scary.
In 2021, it's all about getting your own garden going. Growing your own foods and vegetables is not only healthy for your body- it's healthy for the mental state of those who do the gardening..
But don't start by packing in all the vegetables you can fit. Start with an easy veg that you love eating! Try planting favorites like potatoes, peppers or tomatoes. Start with just a few plants. You will be amazed at just how much food you can produce with just a couple plants!
The positive social and even mental health effects that can be had by engaging in gardening have been noted by science and news outlets like in this BBC article that talks about links suggesting that gardening could in fact be one key to living a longer life.
What is the best garden tip? The biggest thing I can pass on to you from the hundreds and thousands of gardens I have built and maintained? Borders, borders, borders. Keep out the weeds! Keep out the weeds! Keep out the weeds!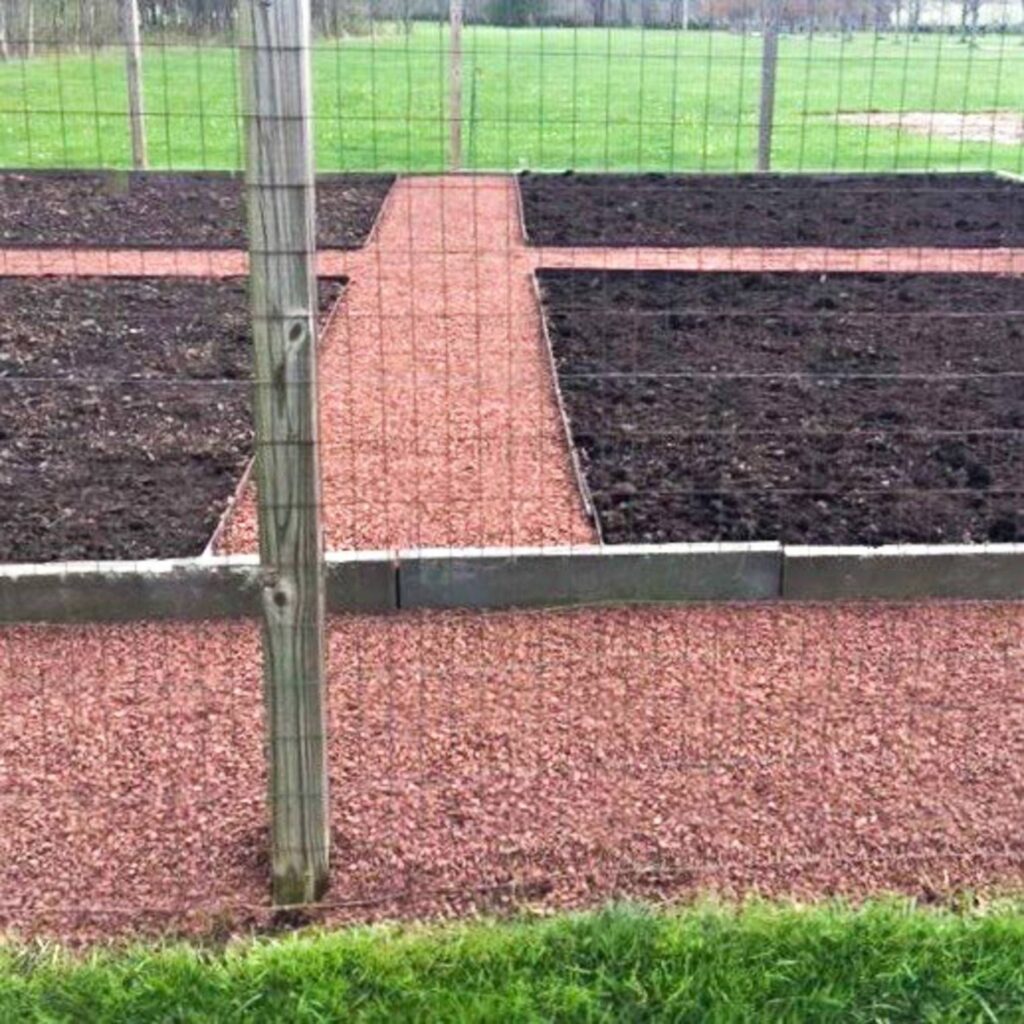 Above: This veg garden is designed for yield. The stone paths make weeding, tending to the garden and harvesting a convenient task.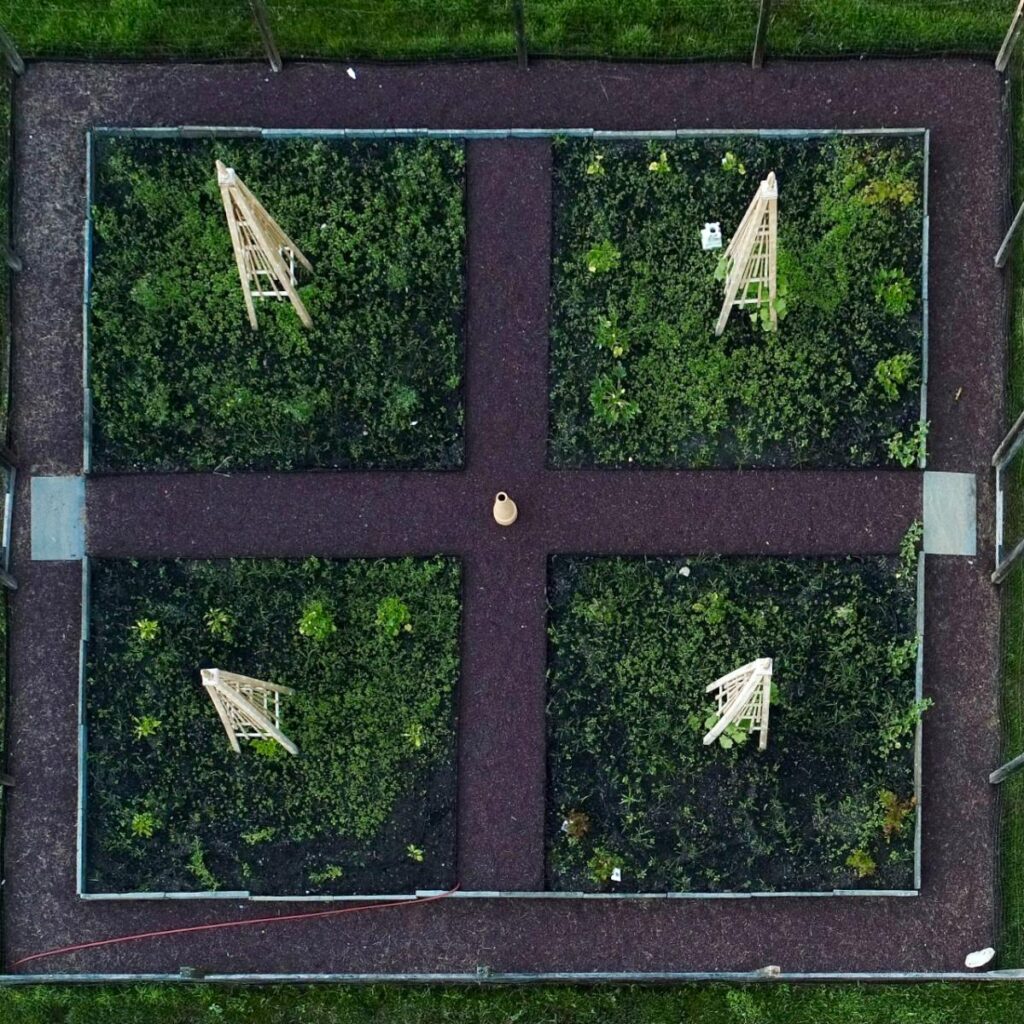 Above: Birds eye view of a veg garden in Bucks County, PA.
5. Plant For A Reason and People
If your garden is a flower garden or an herb garden- really consider why it is you're planting what you're planting and who you are doing it for.
It's easy to get excited and just 'plant.' But, it's not fun to be overwhelmed – caring for something you might not make use of in the end. So think about what you're planting for your edible garden, who will eat it and how much they will eat.
If you don't like brussel sprouts- don't plant them! If you are such a natural that you have a ton of extra produce- you can also consider contacting a local food bank to show your community some love in action.
6. Do Get Family Involved In Gardening
The best thing about gardening might be that- regardless of age and skill level- everyone at home can play a part. Get the kids involved! Get some gardening books and encourage curiosity and experimentation.
Being able to make a direct and real connection to the seed that was placed into the ground to what ends up on the dinner plate (and the time and effort required to do so) will no doubt stick with children.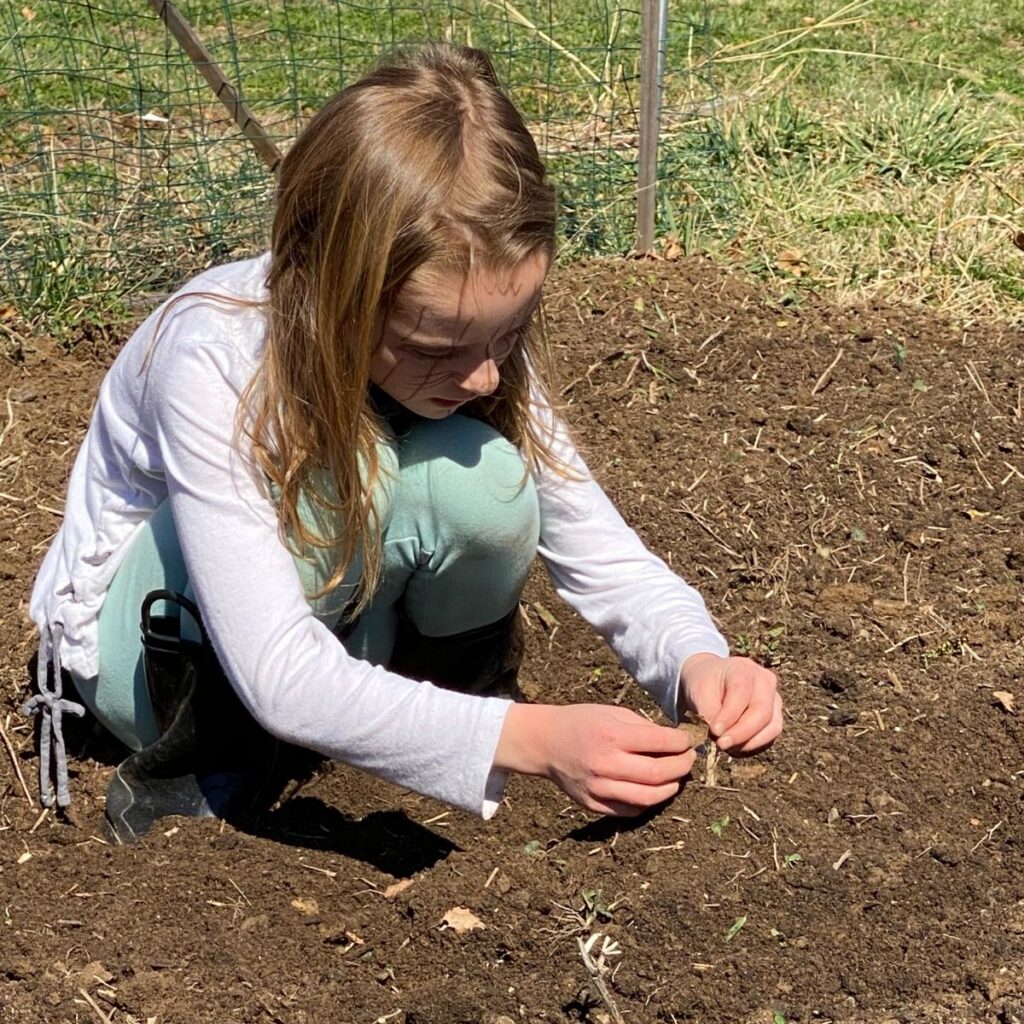 Above: Gardening has been found to have positive mental and physical health effects on children, adults and seniors.
7. Don't Start Without A Plan
It's said that those who fail to plan, plan to fail. The same rings true for any garden or garden design project. As landscape designers- we operate on good planning. 4 things things to keep in mind when planning a garden are…
Who the garden is for and what do they want to do with it?
What relevant skills are you bringing to the table you can leverage?
What are the potential downsides we can eliminate in good planning? ie too much maintenance, poor sunlight, drainage or soil nutrients.
What do you already love doing that this garden will help you do more of?
8. Start An Herb Garden
Herbs are very forgiving plants to start with. Herbs are so great that there's even an entire garden type dedicated to them. Herb gardens can be as small as a pot, since they are typically used in small quantities. But if your anything like Antoinette at PLANT, you will be cutting, drying and sending glass jars of their fresh, potent goodness to all of your cooking friends! Herbs make great additions to every meal and they make great gifts. They can tolerate a lot of direct sun and there are some types like Lavender, Rosemary and Mint which need very little water.
9. Set A Garden Budget Before You Start
If you want to hire someone to design and build your garden or if you'll be tackling the project yourself- the budget matters greatly. Budget determines what you will be able to do. But don't start just think about money! Physical space, time, water and access to soil-building nutrients such as manure, compost or fertilizer are other limited resources you want to take into account.
10. Do Start A Low Maintenance Garden
If you just really think a green thumb is something that will always elude you or just can't find the time. Let's think about lower maintenance. Ahhh… the rock garden.
Regardless of the kind of garden you have in mind, there are always good and bad designs. Have a plan and know what the project entails before you start. And if you're working with a landscape design and build firm- stay in close communication with the team tasked with helping to make your garden a reality.
11. Don't Forget: Garden Water Source
If you're going to be growing anything in your garden- one thing we all know is that plants need water. There's nothing worse than waiting to fill big containers only to have to haul them halfway across your property… over and over and over. To get irrigation to a garden that's located some distance from an existing water line. One of the best decisions I made in gardening is to install drip irrigation on an automatic timer like this one. https://www.amazon.com/NDS-A675CT-Operated-Automatic-Watering/dp/B00E83E9OI/ref=sr_1_2?dchild=1&keywords=agrifim&qid=1609864816&sr=8-2.
Don't make these two big mistakes often made when watering plants in your garden. Hand watering is the first big one. It is time consuming, inefficient and ineffective. The second big mistake? Overhead watering. It is efficient but extremely wasteful, since you are watering all the weeds and pathways.
Try drip watering using timed irrigation. It's efficient, effective and makes a wise use of one of the earth's most precious resources- Water!
12. Create A Simple Garden Workstation
There's nothing better than having the right tools for the job right at your fingertips. When you have a dedicated planting/potting bench- gardening can be done on a whim. Try storing pots and other gardening materials underneath the potting bench so what you need is at arms reach when the inspiration to garden strikes. This also makes a fabulous transplant station. I have two benches next to my garden, and they make organizing my tools a cinch, and allows me to do my transplanting and potting standing up. A big difference if you have a big garden!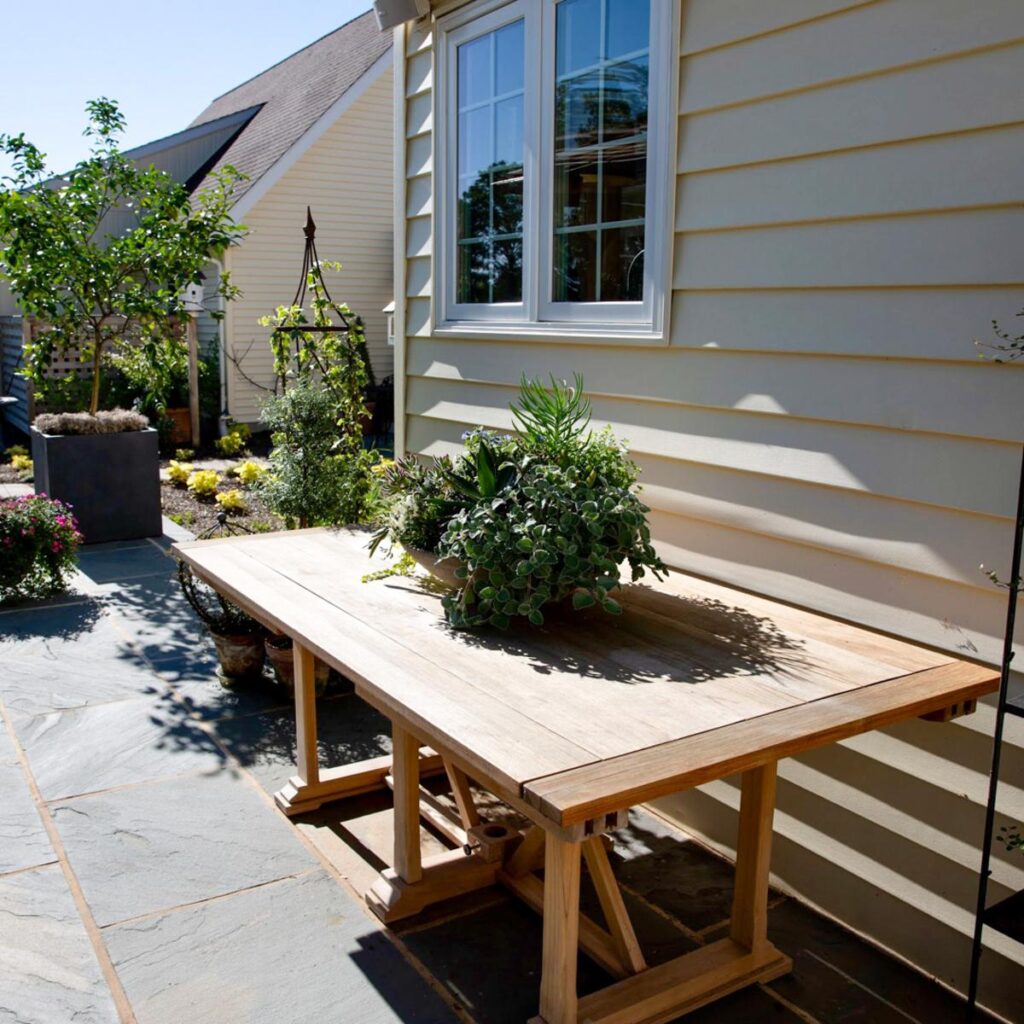 A gardening table or station is placed on this patio where the homeowner can conveniently tend to potting and other prep tasks beforehand.