Lighting for your landscape might seem to be easy enough- but over the years that I've been designing and installing lighting for clients that demand the best, I've found out firsthand that (especially with outdoor lighting) you're going to have to learn what things really work and which do not.
Here is a list of the Best Landscape Lighting Design Tips & Ideas For 2021 that will be helpful for you to keep in mind when you're thinking about your outdoor lighting project.
1. Don't Use Solar Landscape Lights in Your Yard
At PLANT, we are supportive of clean energy and it's always nice to have the savings that come along with solar lighting, but the truth is that this technology simply doesn't yet work well enough to use. Solar-powered lighting is so inferior, that we will not recommend or install solar landscape lighting for our clients.
Are there any good solar landscape lights? 'Too often, when we're called in to design and install professional low-voltage lighting, it's because the homeowner is disillusioned with their first choice: solar lights.' People are usually unhappy with solar lighting because it doesn't meaningfully illuminate an area as it lacks adequate power reserves and produces substandard output and coverage. Get it right the first time and make sure to request low-voltage, electric-powered lights only.
The performance of solar-powered lighting is so inferior, that we will not recommend or install them for our clients.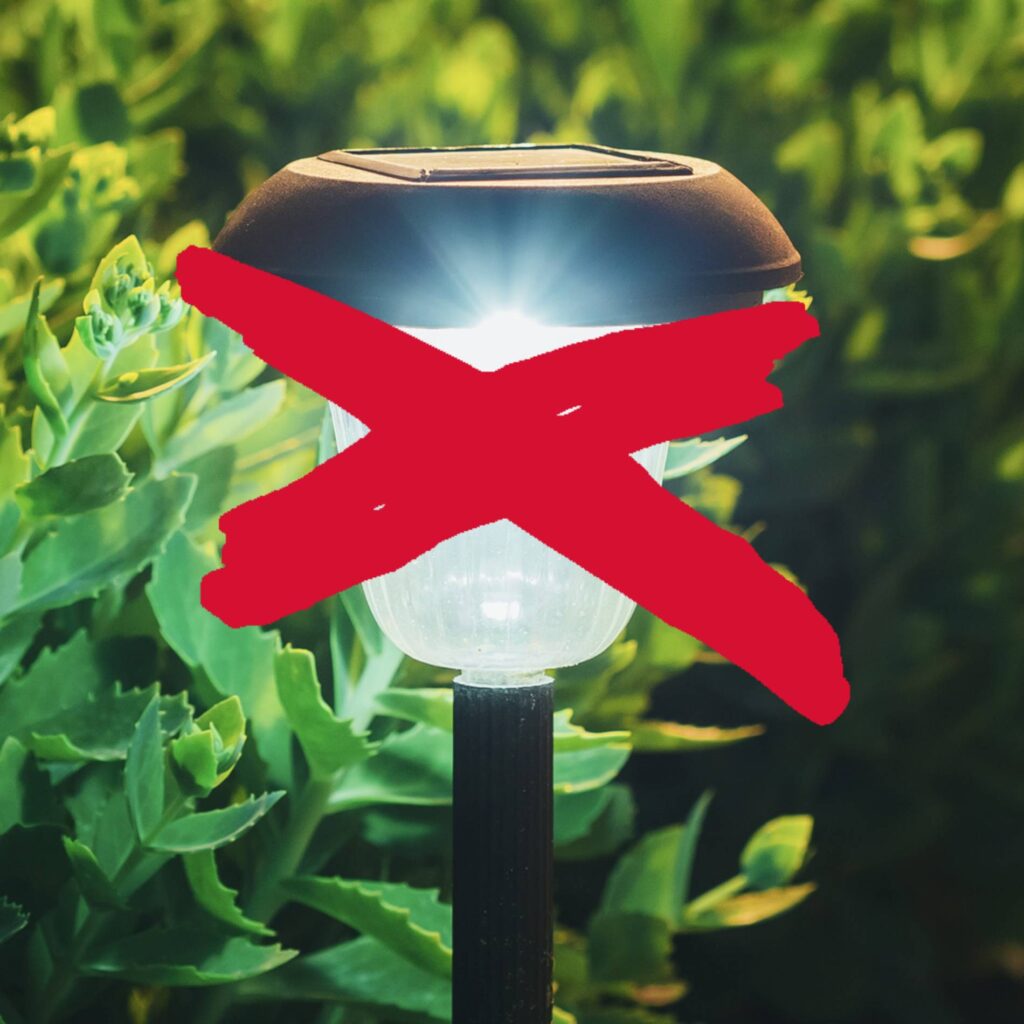 2. Get Durable, Warrantied Pathway Lights
Pathway lights are excellent for providing visibility at night along walkways, driveways and retaining walls. We install a lot of them for both beauty and safety. But there's one thing in particular that we see happen time and time again after these installations: pathway lighting ends up taking a tremendous amount of abuse.
Between the lawn guy, the pool people, clumsy guests, kids on bikes and rambunctious pets- these landscape lights are especially vulnerable to getting knocked around, bent and broken. Trust us- it will happen.
This is a central reason we install lights that have a substantial warranty and are built by companies that understand that in order to last- lighting needs to be durable.
It's quite often that we end up needing to send off fixtures to the manufacturer for replacement- which is why and we will only install lighting made by companies that stand behind their products.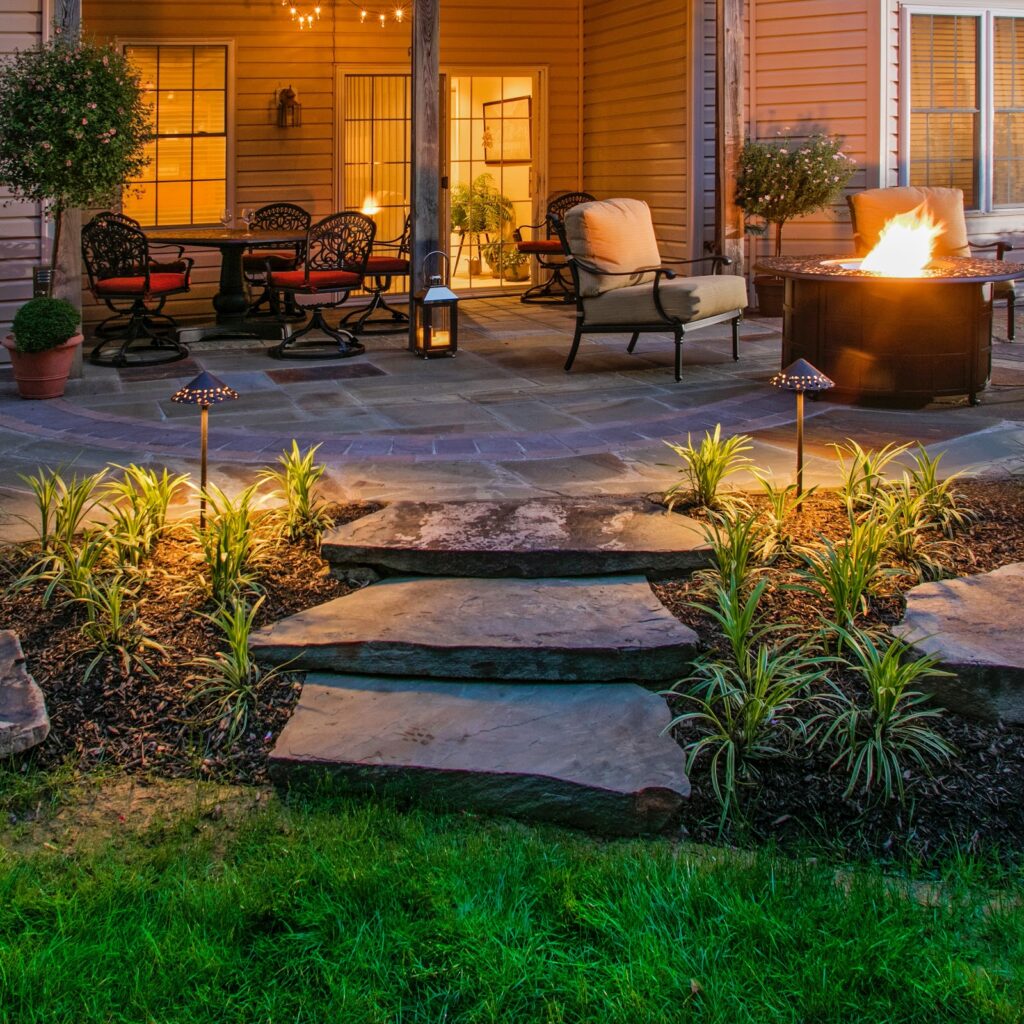 3. Choose The Right Outdoor Bulbs: LEDs
As far as your landscape lighting is concerned- you should be looking at LED bulbs, period. Whether you want string lights or a series of pathway lights to illuminate your outdoor space, LED bulbs are a great choice.
Useful LED (Light Emitting Diode) lighting has been around for quite a while, but has only just recently come into its own as the technology has improved and they have become (and continue to become) significantly more affordable. They are also ultra-inexpensive to run- making the cost of use a fraction of 'regular' incandescent bulbs and even the CFL lights, that until recently were the latest and greatest money savers.
The quality of the light produced by LEDs now rivals the classic incandescent (the traditional light bulbs we all know) look that many of us grew up with, but with greater longevity and less cost to run. They feel as authentic as those you would have seen at the 1893 Chicago World's Fair when Nikola Tesla used Edison style bulbs to light up a large public space (the expo grounds next to Lake Michigan) with electric light for the first time in history.
LEDs also run very cool which gives them less of a chance of breaking with a hot bulb and low temperatures. We love FEIT bulbs. These Edison style bulbs have a gorgeous and authentic color that won't break the bank to run.
4. Use Outdoor Lighting Timers and Lighting Controls Or Smart Home Technology
It's never fun to have to fumble for cords and outlets when you want to shed some light on your backyard landscape. With recent advances in 'smart home' technology, there are now tons of options for controlling your exterior lighting. It's an amazing feeling to see your backyard lighting change with a touch of a button.
5. Keep It Simple – Light Up The Right Things
Don't end up with a yard that looks like the lighting was designed and installed by Clark Griswold from National Lampoon's Christmas Vacation! In a Hollywood film, an absurdly overlit yard and an overworked electric meter is laughable and cute. But in real life, even a mildly over-illuminated space can look bad and lacks functionality.
Exterior lighting that is poorly designed often has the flaw of trying to light up "everything" or even worse- the "wrong" things in the space are illuminated. Things that don't show well at night or add functionality to a lightscape simply won't look right.
We light up the things that will look best lit up- not necessarily what you would look at during the day. Low voltage lighting looks and works best when you paint an entirely different canvas at night.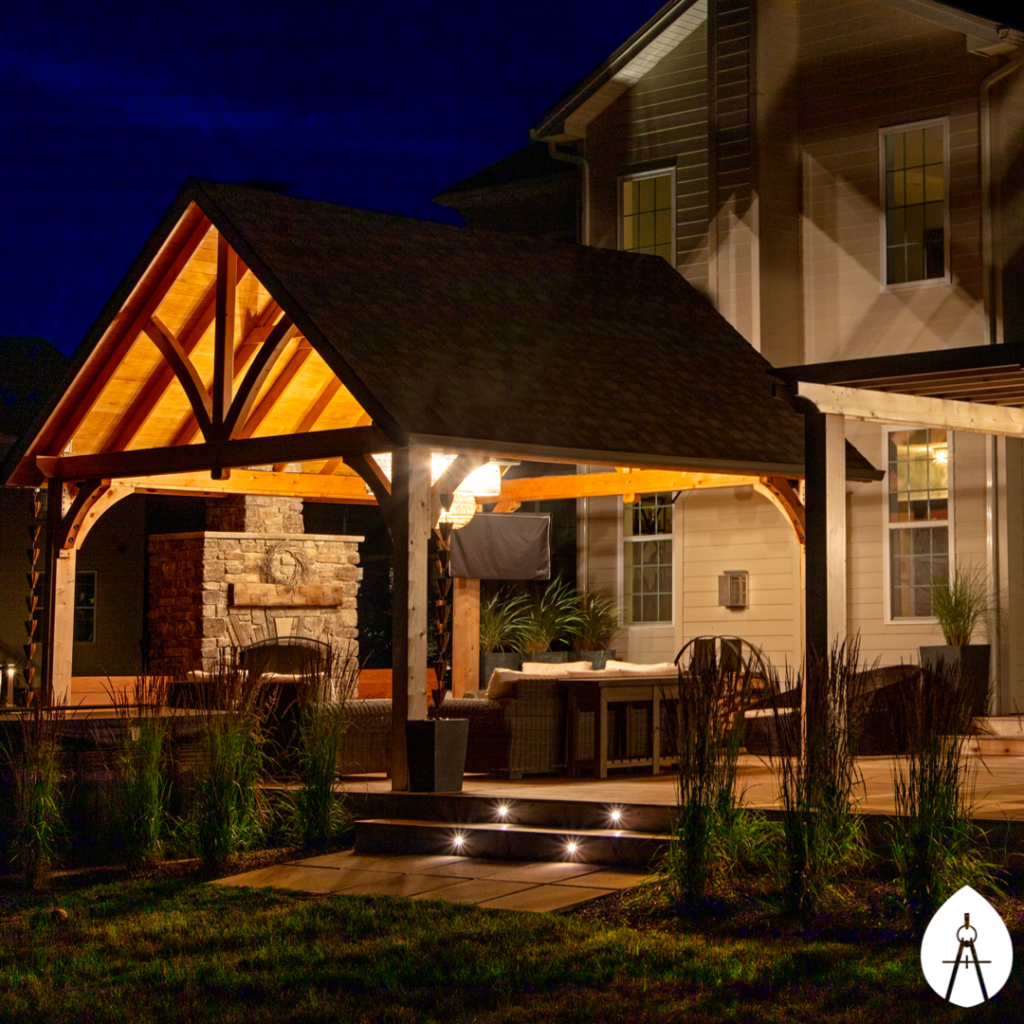 We also light for safety. We try to light up anywhere there's a level change to eliminate tripping hazards and increase visibility at entry and exit ways. We want "subconscious clarity" on where to look (where your eyes are naturally drawn) and where to walk when lighting up an area that will be used at night.
As you look at the finished lightscape, you don't want any really hot (bright) spots, or dark areas that cause a deep contrast. You want outdoor lighting to connect and feel unified. Not that you have (to have) lit everything at the same brightness, but that the area makes "sense" visually. You want your eyes to move through the space naturally and naturally be able to make sense of your surroundings. You also want to be able to (apparent) immediately notice the entrances, exits and where the main features are, whether it is a firepit area, a boat dock or a poolside patio.
6. Make Sure Landscape Light Fixtures & Bulbs Work Together
Here's one thing you have to get right. It's an all-too-common mistake to choose the wrong combination of light fixtures and bulbs.
This can either be low quality fixtures used with bulbs that constantly require maintenance or repair to work properly. Try to stick with bulbs and fixtures made by major manufacturers or preferably- the same manufacturer. Trying to get a deal on 'no-name' lights from an Internet wholesaler isn't worth the free shipping you get on the package.
When bulbs and fixtures are mismatched in quality or electrical rating, problems can occur and spoil your late night outdoor gatherings. So get this one right from the start and make sure your lighting design team knows what they are selling to you.