When you know that you will be installing or hiring someone to install a patio at your home- it means that you will likely want landscaping and planting in and around the area. If it's not done right- maintenance for both the plants and the rest of the surrounding landscape can become a chore that goes against what the patio was built for in the first place- to be a source of peace and relaxation at home.
Big box garden centers will have you think that landscaping and planting is as easy as pie- and in some cases it can be… if you or whoever your hire is skilled. So, make sure that when you are ready to landscape around the patio- you know what you will be doing and why you'll be doing it. This way, as time moves forward- your area stays the way that it was intended with the least amount of upkeep. With that, here are 6 Backyard Patio Landscaping Ideas for the new year.
1. Connect A Landscaped Stamped Concrete Walkway To Backyard Patio & Driveway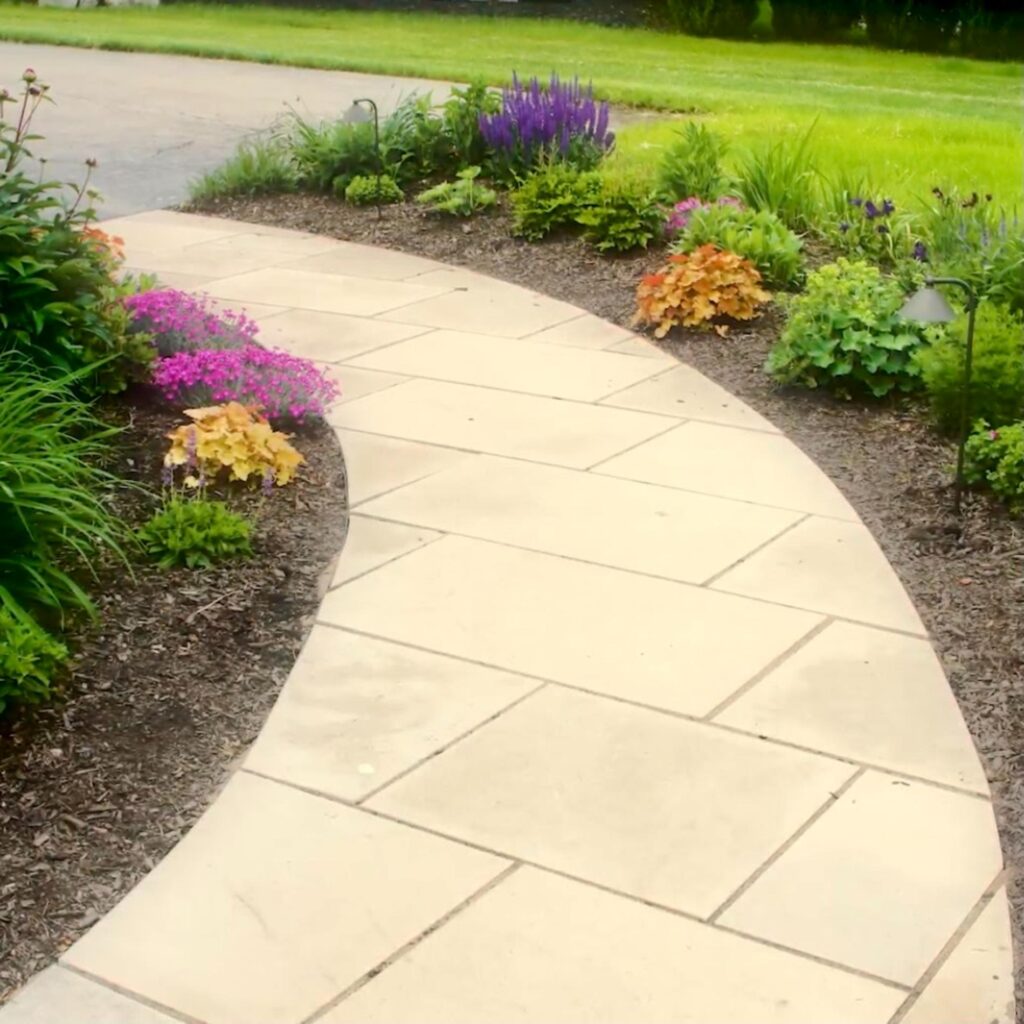 Above: A stamped concrete walkway allows for easy movement to and from the patio space and driveway.
This walkway was created to connect the driveway with the client's new patio. To beautify the trek to and from the backyard patio space, we use pink Dianthus, purple Salvia and Coral Heuchera and Stella D'Oro daylilies to create a smattering of color and diversity of textures in any season.
2. Plant Landscaping In 'Your' Color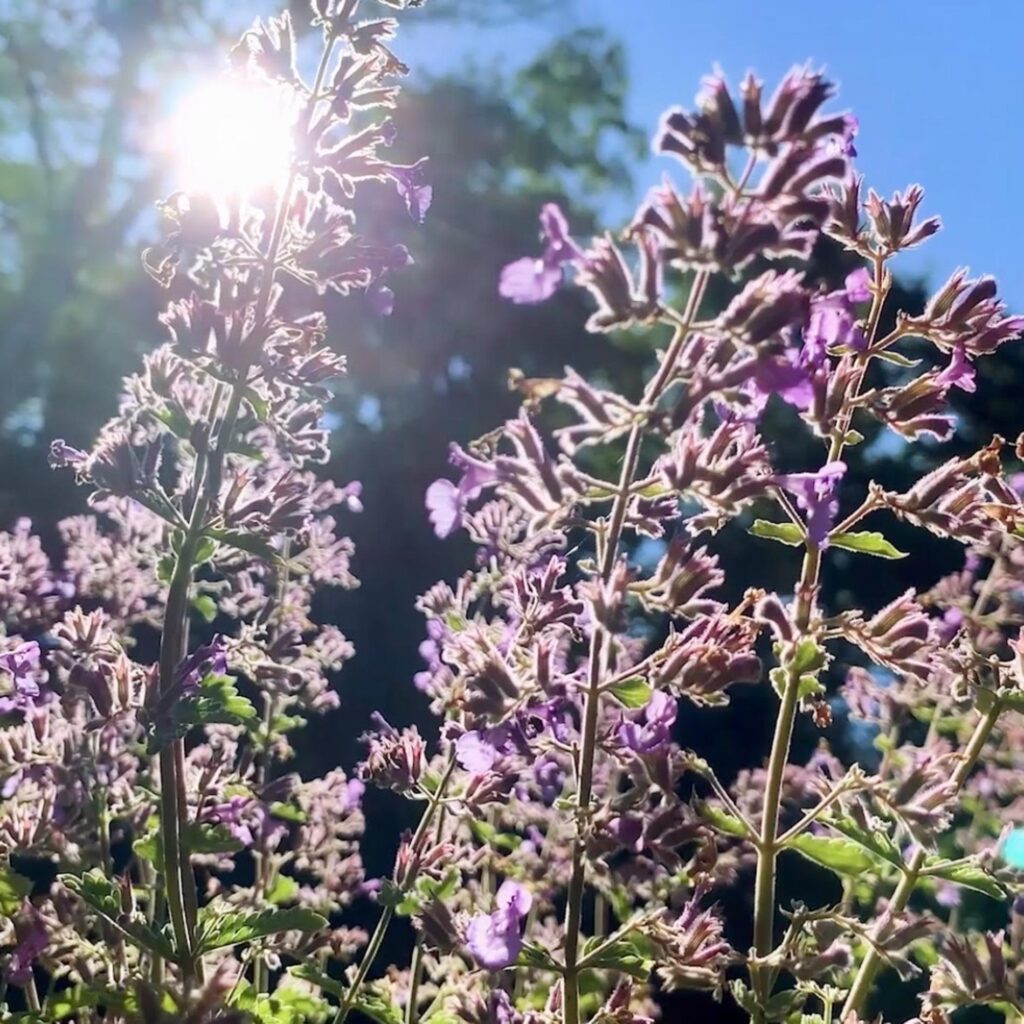 Above: Everyone has a color. What's yours?
When you think about planting and landscaping around your patio, you might not think to seek your color. The approach is probably something more like- let's go pick from what the garden center has. If your color happens to be bluish purple, then we have the same color. My favorite perennials are Nepeta, Salvia and Lavender. Put in the effort to seek plants that have the colors that will complete your look- not the other way around.
3. Landscaped Patio Steps Leading To A Pond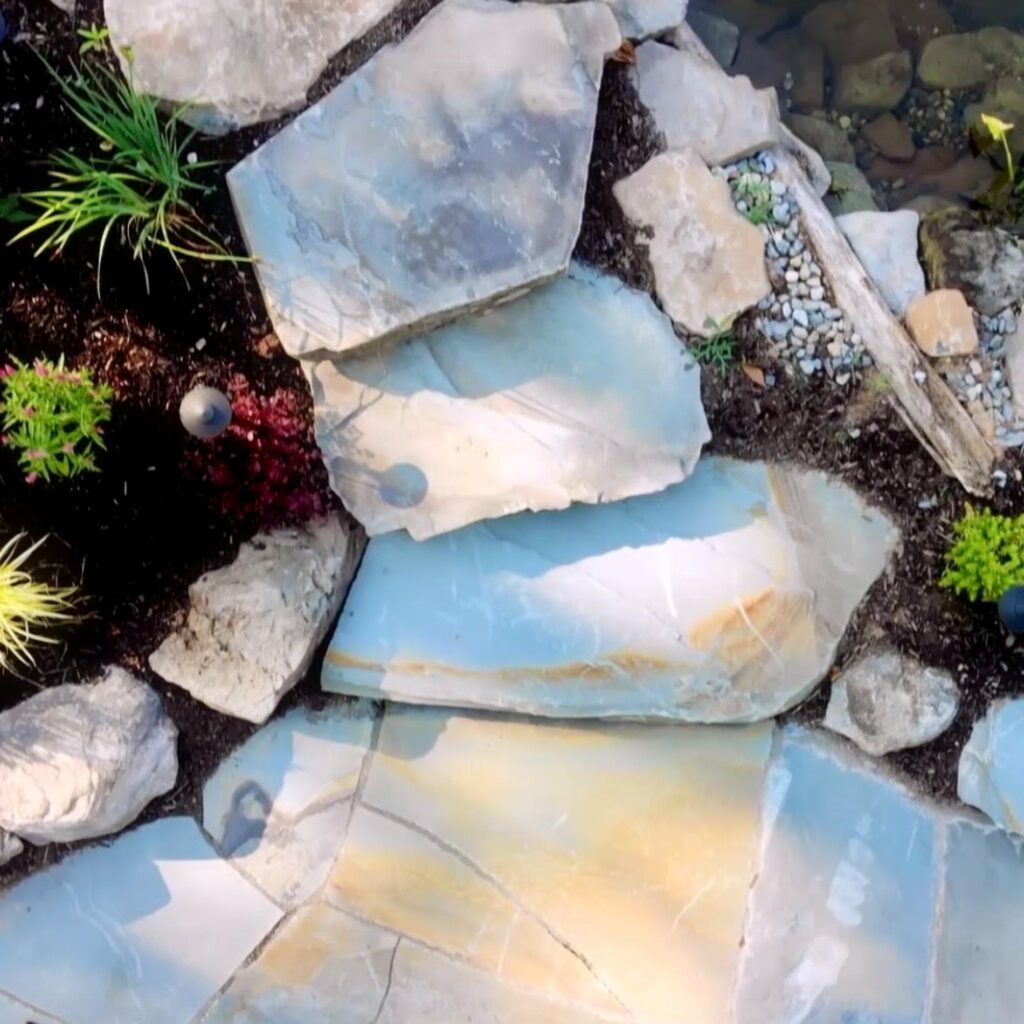 Above: This stone walkway looks natural in its final form. It's also safe traveling- having properly placed lighting on each side for evening trips to the lower backyard at this home.
These patio steps lead to a pond that we installed for a client. The plants alongside the patio have a look that is reminiscent to the plant life you might see in watery areas- which makes the transition make sense as you move about from one space to the next.
Native rocks finish the natural look and were placed along the border as accents.
4. Landscaped Stone Steps Leading To Yard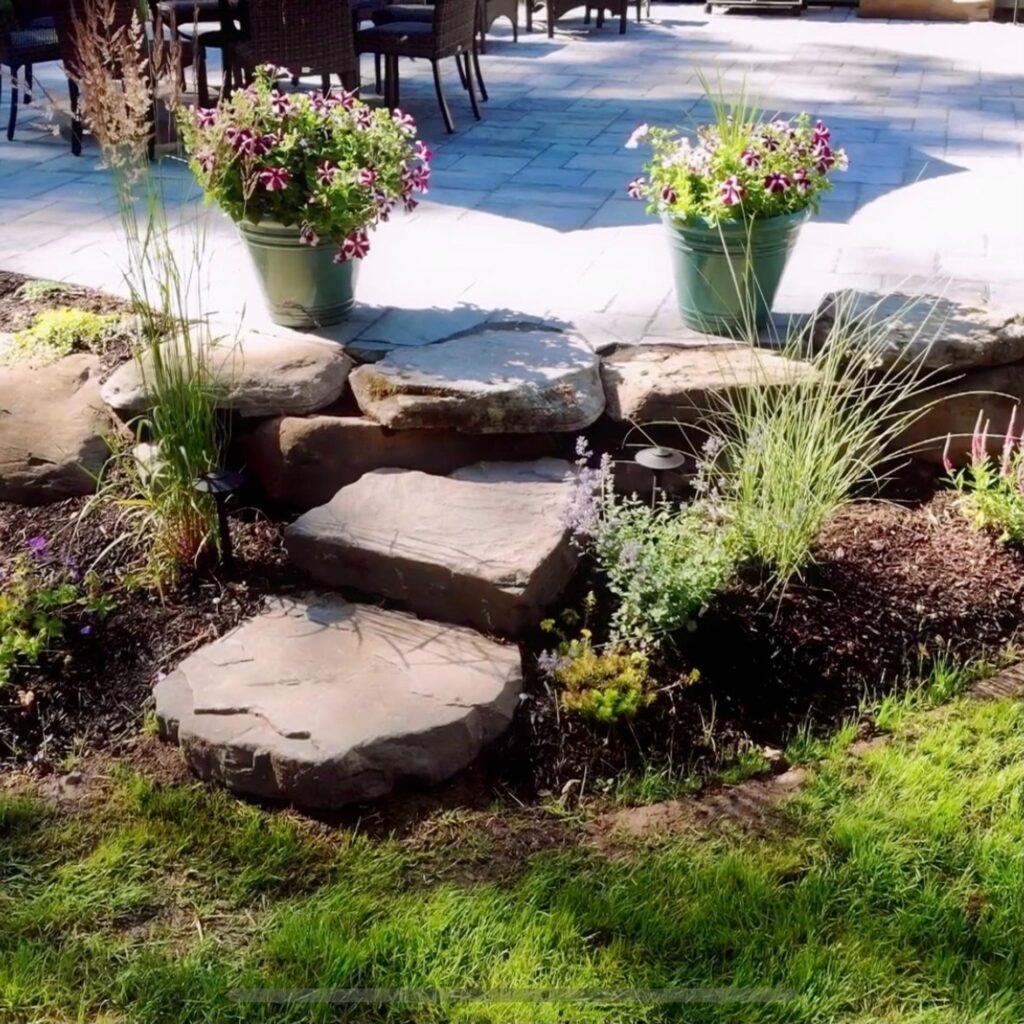 Above: Planters offer versatility to any patio area- as they're easy to move or update according to the time of year. The planters themselves can also be updated to freshen up your patio area for the start of a new season, for example.
This stone stairway is the perfect way for connecting this patio to the rest of the green space in the yard. Natural and solid, the steps blend with the mulch garden that's flanked first with planters and garden plants.
5. Get A Diversity of Plants Around Your Patio
Unless you're going for a modern look- having a healthy diversity of plants is a good approach both visually and for the well-being of the plants. But, make sure that the plant species you like will live well next to one another! Diversity in planting also provides the opportunity to stagger and layer the plant landscape near your patio for a look you'll love.
6. Small Patio? No problem.
For small patios, there might not be a huge area for landscaping around the patio area. But rest easy- there are some plants that will work great for small spaces.
If you're operating in a smaller space- it makes sense to start thinking about landscaping with plants that are also on the small side.
What's the best plant for small patio landscaping? Plants that work well in sunny small places are any type of succulents, herb or phlox. Plants for shady small places are Creeping Jenny, Variegated Liriope or Wood Fern.
And don't forget! Make sure that the size that whatever you plant is the right size for your space at maturity. Just because it's small when it's planted- doesn't mean it will stay that way. Give us a call or talk to your garden center or landscaper if you are unsure what to plant.
Whether you are starting with a 'blank slate' in the form of new construction or are looking to redo or update an older patio- it's possible to create a landscape around the area so that it feels more like the realization of your initial vision and personal style. We hope you love your backyard!