Besides the mailbox and driveway, your home's front yard is the first thing that friends, guests and others will see.There are two big buckets of things we think about: when it comes to your front yard landscape:
1. Looks or "aesthetics" and
2. Function or utility
Your front yard should BOTH look great and function according to your needs. Having only one of these elements without the other doesn't work. A well-designed front landscape can do wonders for your home's aesthetic and its curb appeal (not to mention its financial value). Check out the list below that we compiled of 8 Front Yard Landscape Ideas For 2021.
1. Add A Modern Feel To Your Front Yard Landscape
A theme can totally work for your outdoor space design, but don't go too overboard or you'll risk looking like you are trying too hard. Think subtle and meaningful design elements with bold, linear design and neutral tones. Make front walkways and steps concrete and maintain open space in such a front yard landscape design.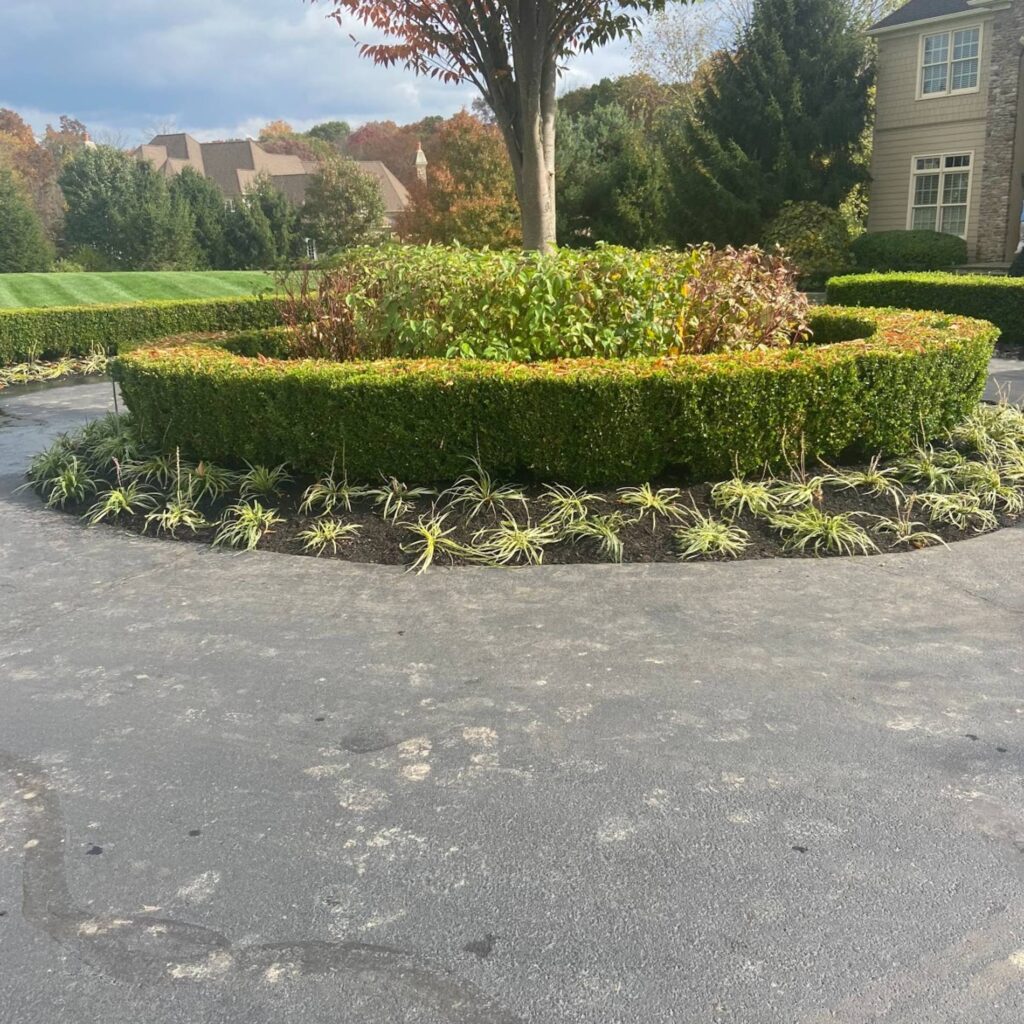 2. Yes, You Can Have A Flagpole.
There is just something uncommon yet classic about a flagpole. Whether it displays one flag or a few, the stars and stripes or whatever you're passionate about- flagpoles can be installed tastefully in a myriad of ways.
With flagpoles, keep it simple. You might think that these were chiefly the domain of large, imposing mansions and sprawling building complexes. But flagpoles, and any surrounding landscape and hardscape can be had at most all budgets.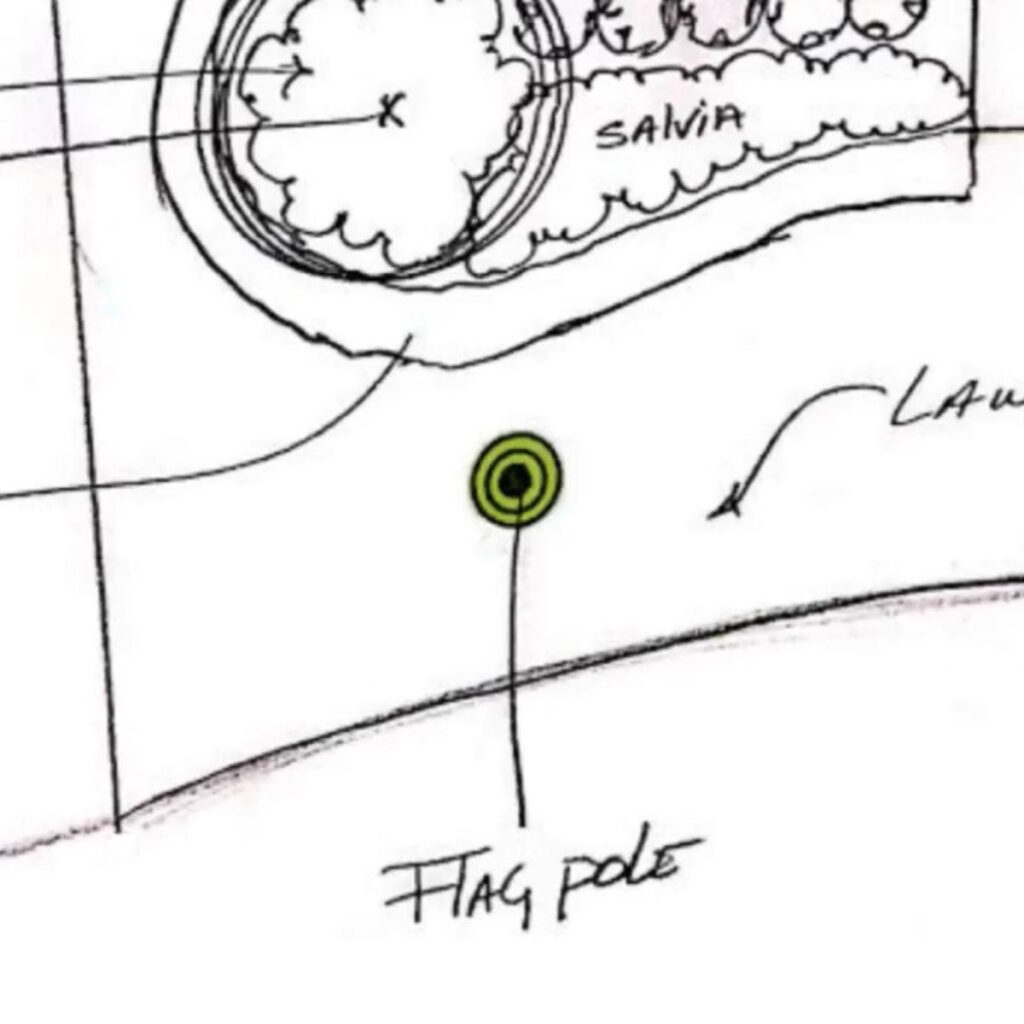 Above: One of our landscape designers sketches in a flagpole, slightly offset
from a quaint garden.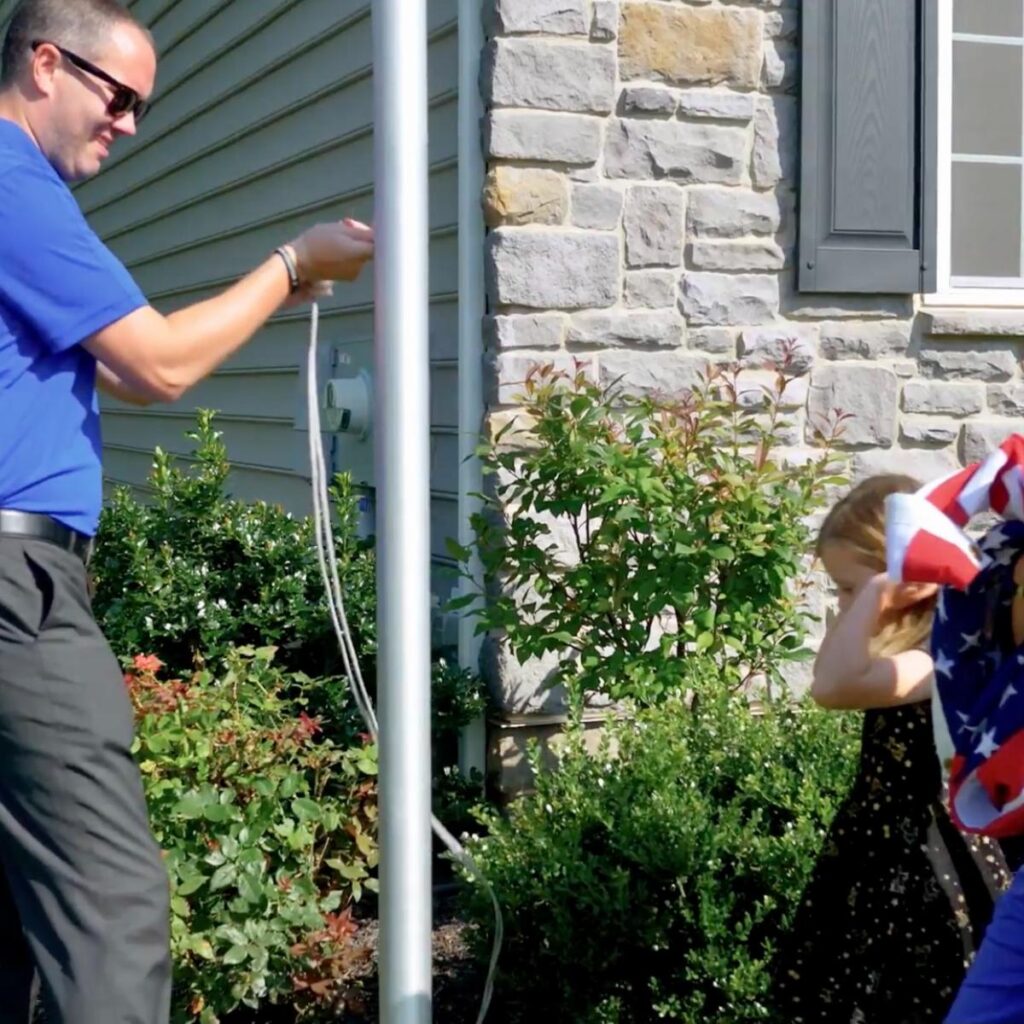 Above: A family hangs a flag on their flagpole.
3. Use Trees As Privacy & Noise Barriers At Front Yard Border
If your property and home is situated in a way that leaves an unobstructed view for motorists and others passing by, you might want to think about planting trees near the road to give your front yard more privacy.
Evergreens work well for privacy and will give you visual protection all year long. When evergreens are used for privacy screening, they can also act as natural noise barriers– dampening the sound of car and motorcycle traffic so you can enjoy your favorite reflection area.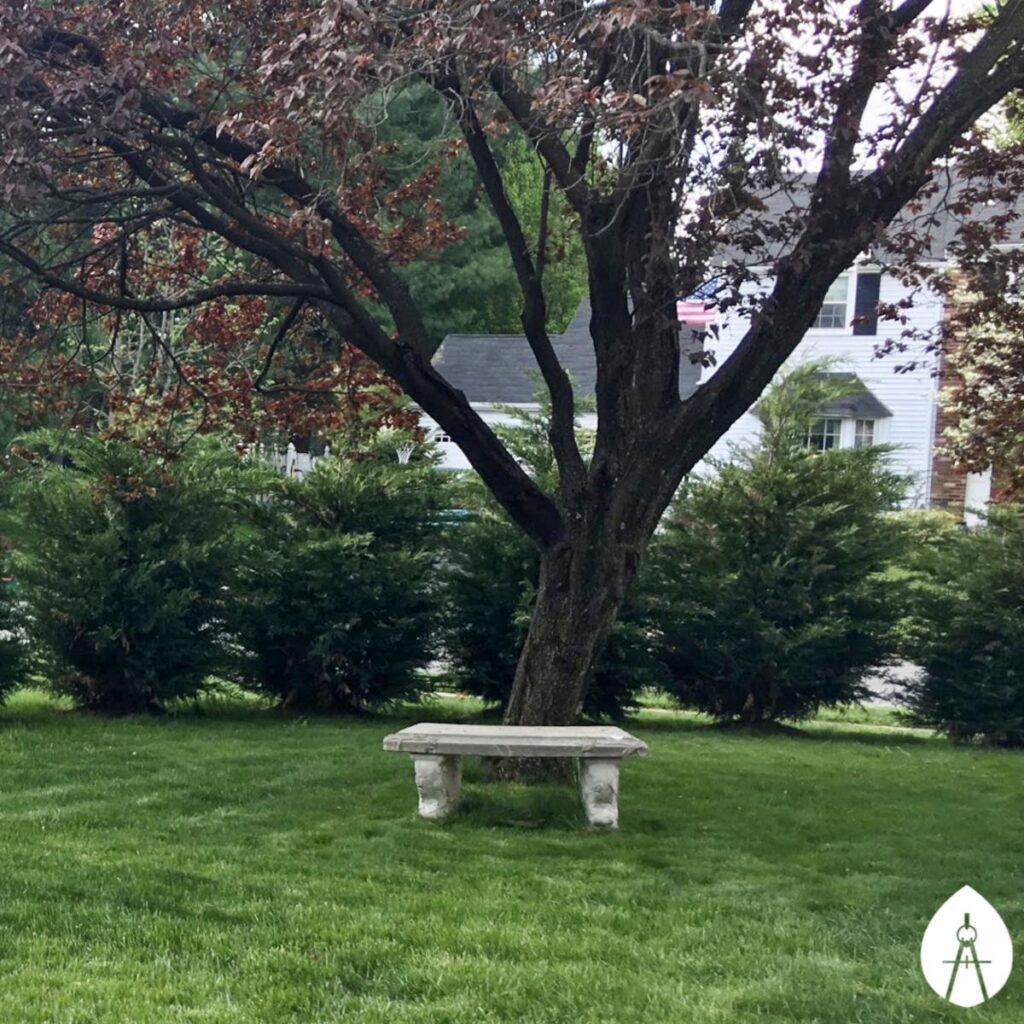 Above: A simple evergreen visual barrier allows for privacy for reflection and alone time.
You can even stagger and vary tree species in such a fashion that the noise-blocking effect is maximized, creating an even more robust natural sound barrier.
4. Add A Rock Garden (Simple & Low-Maintenance)
Rock gardens can be configured in many ways. And if you don't have a green thumb? Well let's just say that rock gardens are low-maintenance! Boulders can also make a statement that says 'stability, longevity and solid.'
Low maintenance is beautiful because the time and money needed to maintain these gardens is minimal compared to others. Rock gardens (with a smile) are incredibly trouble-free. This example of limestone boulders interspersed with Variegated Liriope and Japanese Fern is a beautiful front yard landscape approach that is as low maintenance as it gets.
5. Plant A Rose Garden
As flower garden types and styles vary so greatly- there are literally endless ways to create one for your front yard space. So, why not go with a rose garden? Roses are timeless and if they are planted properly- a great addition to your front yard. Nothing boosts curb appeal like a fresh-looking front yard landscape.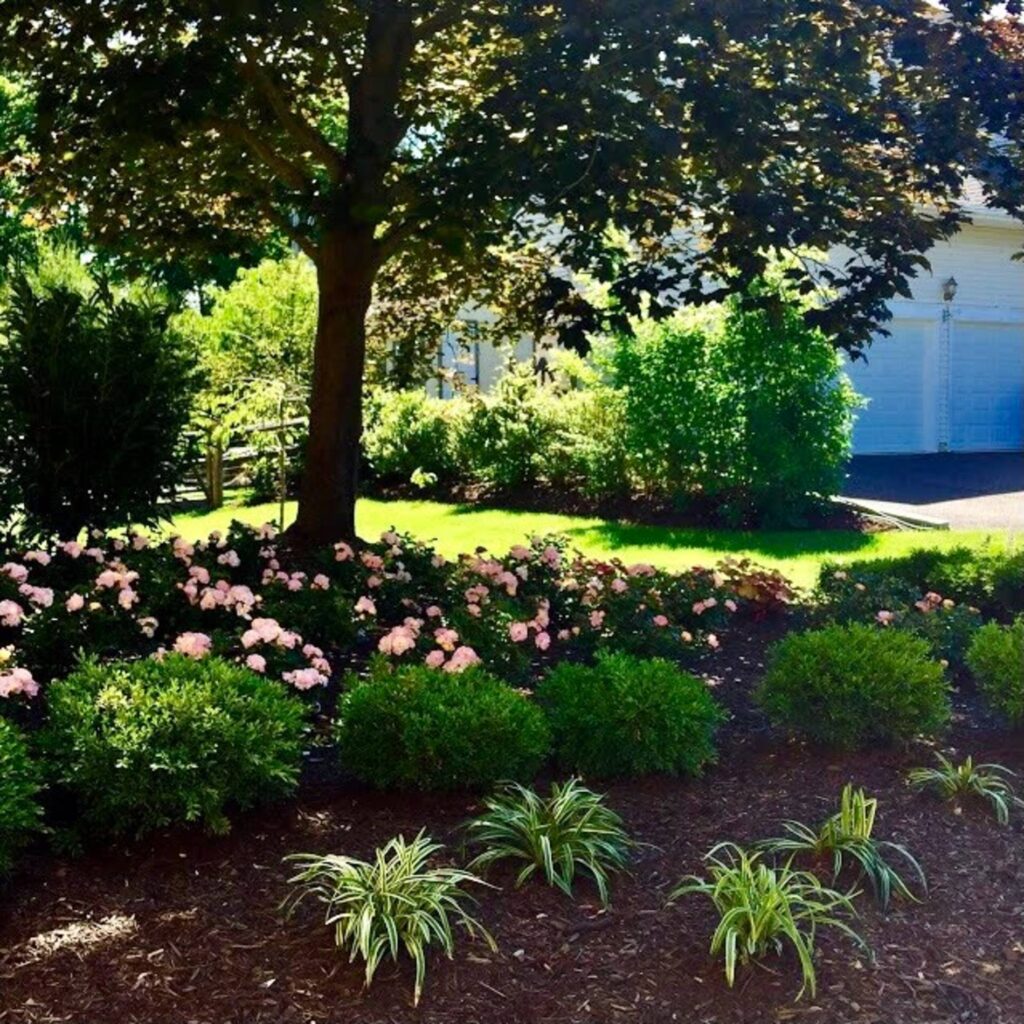 Above: This field planting of a pink drift rose garden shares space with a red maple tree and feels like a fairytale.
Roses typically like a slightly acidic, well-draining soil that's rich in organic matter. Although roses like sun- they also want protection from intense sunlight. Planting roses near a tree can effectively provide the right amount of sun exposure that a rose garden needs to thrive.
6. Add A Water Feature, Like A Fountain (All Budgets)
If you start to visualize a water feature in your front yard, like a fountain and go to 'place it' accordingly in the design blueprints in your head- you might find it distressing that an elaborate display like you see in city plazas across the United States don't look good in front of your home. Now switch up that image.
Fountains don't all have to look like they came out of the private courtyards of King Louis XVI. There are fountain configurations for just about any budget. So having this type of water feature incorporated into your front yard design isn't just wishful thinking.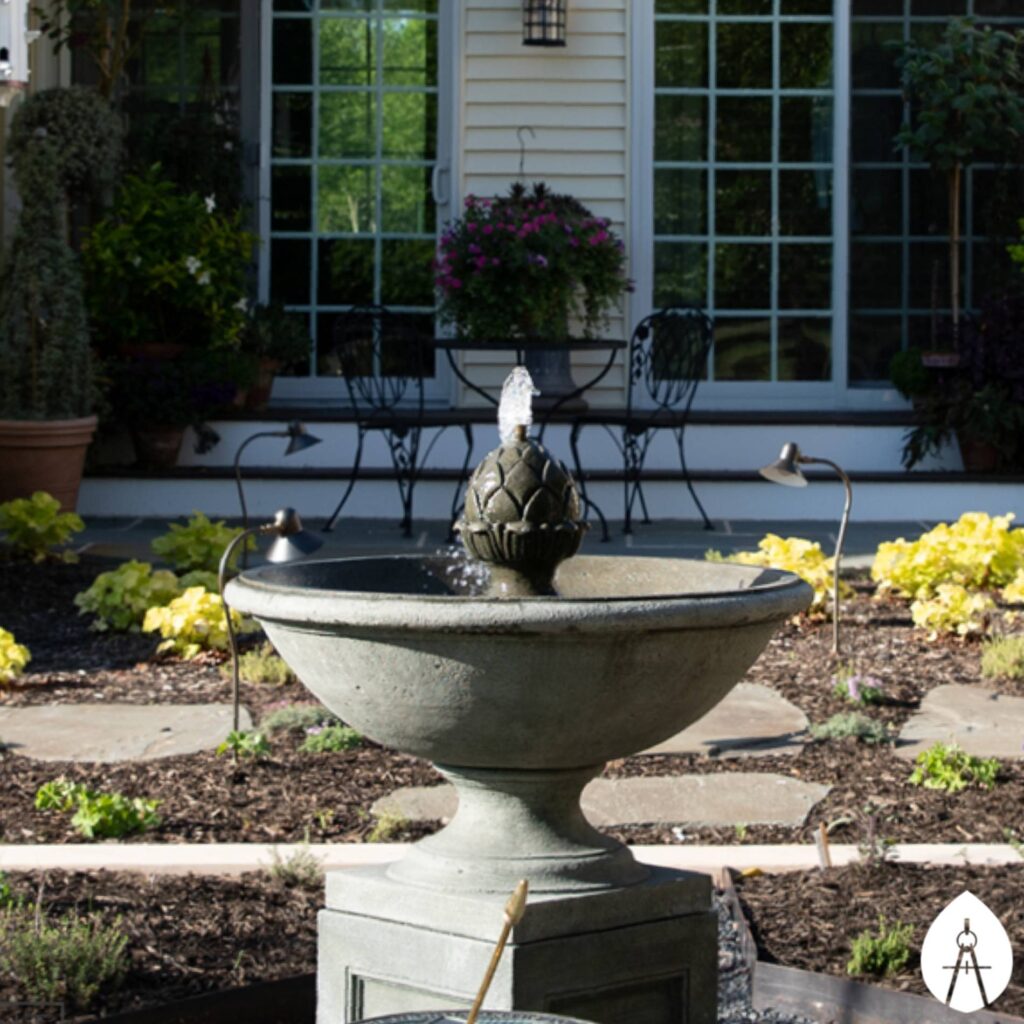 Above: An affordable way to add a soothing water feature to your yard.
7. Add A Reflection Garden
A reflection garden might also seem that it would be best-suited to backyard areas only- but chill & comfort zones can be wherever one will work. Whether it's fit for one to contemplate the day in peace or a place that's specially designed for two- make your reflection area inclusive of zen elements like simplicity and minimalistic design that works to invoke a humble, yet awe-inspiring feel of reverence. Seek Asian influences for this one. Add a small reflection pond or make sure your design includes a variety of places where you might choose to sit depending on the time of day, your mind state, etc.
8. Add An Arbor To Your Front Yard Landscape
Adding an arbor to a walkway at your home can create an excellent transition if you need to fence in your front yard but still want a traditional entryway feeling that signals 'you've arrived.'
What is an arbor? An arbor is a landscape structure that usually stands over a walkway or path. Certain plants love to grow on arbors like climbing roses, climbing hydrangeas , Wysteria, Clematis or Trumpet Vine. Preferably, you want an arbor that is constructed of cedar (a weather resistant wood) or vinyl (a maintenance free manufactured alternative to cedar).